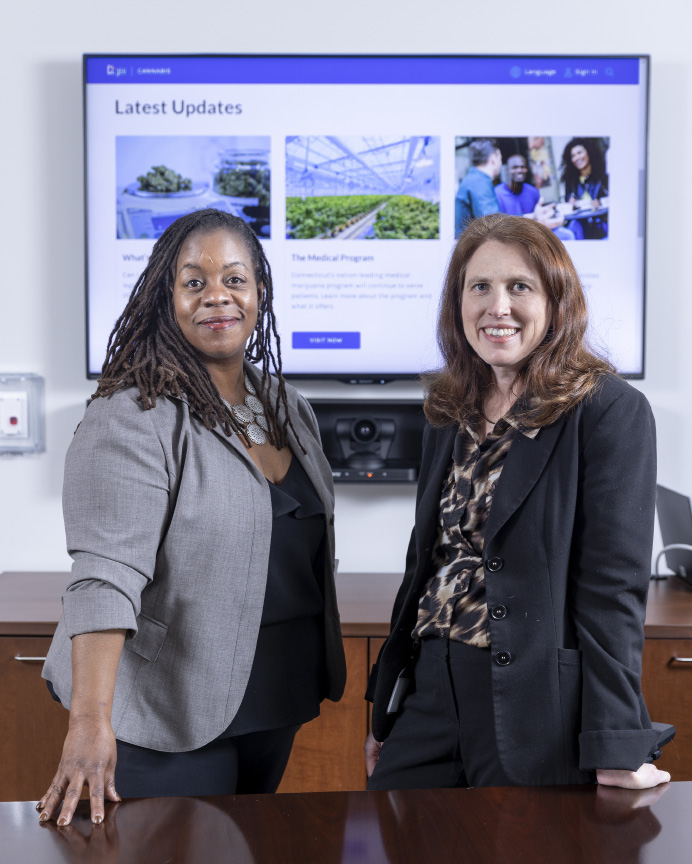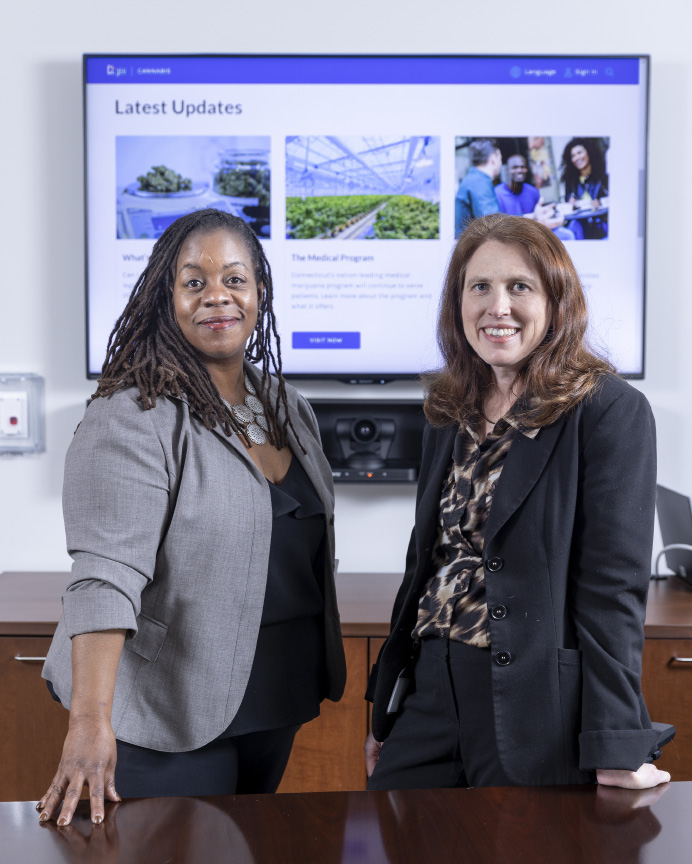 State Department of Consumer Protection Commissioner Michelle Seagull and Deputy Commissioner Andrea Comer have a busy 2022 ahead of them, as Connecticut cannabis businesses and consumers anxiously await retail sales to begin in Connecticut.
DCP, which has been put in charge of regulating the marijuana industry, will spend much of the new year staffing up as it combs through applications, approves an inaugural slot of marijuana businesses and hopefully opens the market, Seagull and Comer said. The plan is to move quickly, but carefully.
"In 2022 we expect to be spending a lot of time evaluating license applications and working with those applicants to get their business up and running," Seagull said in an interview. "Right now we're still hoping that there will be sales available starting toward the end of 2022."
Last June, Gov. Ned Lamont signed into law the adult-use cannabis legalization statute, which went into effect the following month. While neighboring legal states like Massachusetts and New York created new agencies to oversee the marijuana industry, Connecticut's law places most of the regulatory authority in the hands of DCP. It also created and gives significant power to the Social Equity Council (SEC), which Comer chairs.
Both organizations have made progress in getting the state closer to accepting applications from prospective cannabis businesses. That will be a key milestone in the early part of 2022.
For example, in October DCP released cannabis business regulations related to minimum security standards, responsibilities of key employees and guidelines for branding and advertising, among other rules.
During its Dec. 7 meeting, the SEC approved: official standards for prospective businesses applying for social equity status; elements necessary for applicants' workforce development programs; and business ownership and control requirements.
Shortly after the SEC irons out details related to the creation of a technical assistance and accelerator program for social equity companies, the DCP will publish license applications, opening up the approval process.
The SEC will also have to eventually decide how to allocate $50 million in bond funding that will support social equity initiatives.
"We've got a lot of work ahead of us, so we'll be crossing all of those bridges as they come," Comer said.
Now hiring
When applications start rolling in, DCP will set the number of businesses it will initially approve for each of the nine license categories, which include retailer, hybrid retailer, cultivator, micro-cultivator, product manufacturer, food and beverage manufacturer, product packager, delivery service and transporter.
Applicants for each of the nine license categories will be divided into two groups: equity applicants and general applicants.
Most businesses will have to go through a lottery process to get a licence; however, companies currently selling or producing marijuana for the legal medical industry can bypass the lottery and go through a separate process to gain a hybrid license that serves both markets.
Connecticut's law says 50% of cannabis companies must qualify as social equity businesses.
Companies selected through the lottery process will be issued provisional licenses; they will then have 14 months to get everything in order for final approval.
All this regulatory work will require a lot of manpower, which is why DCP is looking to hire about 60 new staffers in 2022 to serve the cannabis industry, Seagull said.
New employees will include members of DCP's legal team, licensing staff and site inspectors.
"We are looking to hire a pretty significant number of people and it will cover a range of things," Seagull said. "[DCP] will be growing significantly."
Vetting businesses
One challenge the SEC faces is how to assess social equity businesses — and cannabis companies in general — amid a potential high volume of applications and pressure to get the market up and running quickly.
Comer said she thinks the lottery process — which requires applicants to have a business plan and other details ready to present upfront — will enable council members to carefully vet applicants at a brisk pace.
"I think [the lottery process] is going to help mitigate the floodgate of applications because you really have to have your act together," Comer said. "I'm hopeful that, in addition to what potentially could be a staggered lottery process, will help … manage the workflow."
Comer said prospective marijuana entrepreneurs must research the industry before applying for a license, and make sure they understand the risks and requirements of running a legal marijuana business in Connecticut.
"I think more than anything [cannabis entrepreneurs] must understand the breadth and depth of all that's required," Comer said. "This isn't a plug-and-play; this is something that requires significant investment, it requires significant understanding around the marijuana business."