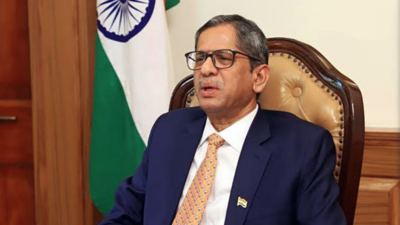 NEW DELHI: Chief Justice of India NV Ramana on Friday said the senseless simulation of global culture is erasing our rich heritage, cultural symbols and ethnic identities and the time has come for the youth to revive their bonds with our magnificent languages.
Speaking at the Osmania University in Hyderabad during the conferment of the honoris causa, Justice NV Ramana said, "As this global culture encompasses the world, the need to maintain diversity assumes great importance. Culture global is emerging as a threat to local culture. symbols and identities. Social media, television and pop culture glamorize a particular way of life and unfortunately we are blindly simulating the same."
He added: "According to Unesco's 2021 World Language Report, half of the approximately 7,000 languages ​​spoken in the world today could disappear by the end of the century. With the loss of each language, we are not only losing literature and considerable folklore, but also losing the wisdom inherited from generation to generation".
Justice Ramana said that he is not opposing globalization but only pointing out the irreversible adverse impact it has on various crucial aspects of our country. "Growing inequalities between classes need urgent attention. We need to find a model of globalization that is sustainable, equitable and fair for all," he said.
FOLLOW US ON SOCIAL NETWORKS
FacebookTwitterInstagramKOO APPYOUTUBE