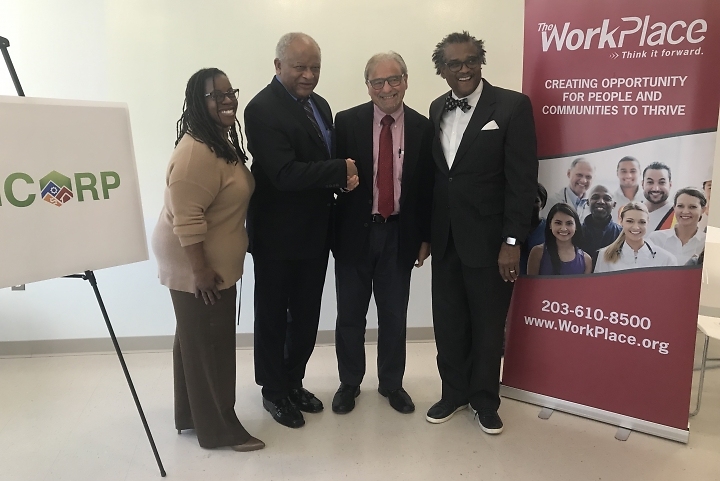 Black and Brown entrepreneurs will learn about ​"joint ventures" — and perhaps enter into one — with the help of a marijuana ​"manifesto" that's in the works.
That manifesto — a practical translation of and guide to Connecticut's 300-paged legislation legalizing adult-use marijuana — is one of numerous initiatives of the Alliance for Cannabis Equity (ACE), a new partnership aimed at supporting minority business owners and workers interested in joining the state's most highly anticipated upcoming new industry.
The Connecticut Community Outreach Revitalization Program (ConnCORP) and The WorkPlace, two organizations that work to strengthen economic and workforce development by providing ​"opportunities to underserved residents," announced and described their collaboration on this project Tuesday at ConnCorp's headquarters on Newhall Street in Hamden.
"For far too long, the creativity, ingenuity, and resourcefulness of this community has not been fully realized," stated Carlton Highsmith, ConnCORP's board chair. ​"The legalization of cannabis introduces a brand new growth industry of Connecticut. Hundreds if not thousands of new jobs will be created; dozens of new businesses will be formed; and millions if not billions of dollars of wealth created."
Joseph Carbone, president and CEO of The WorkPlace, noted that the cannabis industry is producing the ​"fastest growing jobs in this country," with ​"strong wages" that have the capacity to lift disenfranchised individuals into the ​"middle class part of America," create careers rather than just ​"jobs," and redress the ​"wrongs of the past."
Highsmith credited the cannabis law for setting the intention to ​"ensure that Black and Brown communities that have been adversely impacted by disparaties of law enforcement policies over the decades not be left behind, but also benefit from this new industry." ConnCORP's alliance with The WorkPlace, he said, is about helping to cultivate that intention into a reality from the front end to the back end of cannabis cultivation, distribution, marketing, communications, and so on.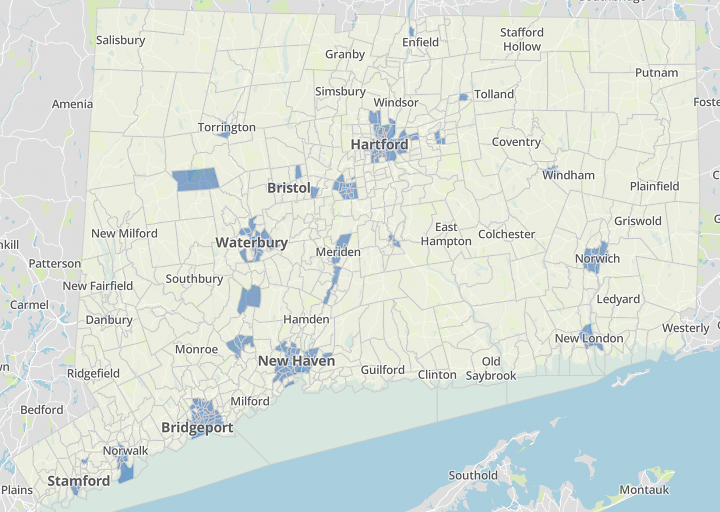 The law itself allows for the expungement of past cannabis-related crimes and reserves half of all cannabis business licenses for people from neighborhoods that were deemed to be most impacted by the War on Drugs. Plus, up to 75 percent of the revenue from cannabis sales will be dedicated to a new ​"equity fund" which will be invested in those neighborhoods.
The state developed a Social Equity Council to oversee, monitor, and facilitate the technicalities of such elements of the legislation. For example, that council voted on August 5 of this year to determine which neighborhoods were most significantly affected by the criminalization of cannabis.
In alignment with those components of the new law, ACE will match aspiring Black and Brown entrepreneurs with ​"trusted advisors," provide them with free, individualized business counseling, and connect them with training and workforce development opportunities provided by The WorkPlace.
The ACE Manifesto will serve as the foundation for the alliance's efforts, the crew agreed. Once it's published, those present at Tuesday's press conference said, they will host ​"community listening and information sharing sessions" to bring interested parties together and link them with necessary resources. They also said they make the manifesto available to interested policy makers who may use it to continue crafting financial implementation tools to benefit individuals of color entering the cannabis business.
"This is, one, about jobs; two, this is about business; three, this is about wealth; four, this is about equity; and, five, this is about restorative justice," said Dr. Fred McKinney, the founder of the diverse business development consulting company BJM Solutions. He was chosen by ACE to compose a draft of the manifesto. He said the new partnership aims to supplement the work of the Social Equity Council, not replace it.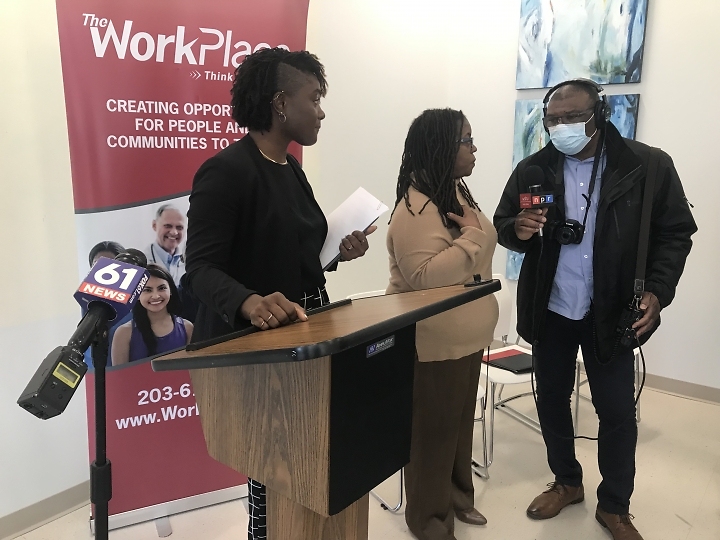 Andrea Comer, the committee chairwoman of the Social Equity Council, also attended the event. ​"We know the Social Equity Council, all 14 members and I, cannot do it on our own," she told the audience. ​"We cannot do it in isolation. So having opportunity for partnerships like this is just going to further our commitment to equity."
The council, along with the Departments of Labor, Economic and Community Development, and Workforce Strategies, are also currently tasked with creating a comprehensive workforce plan. ​"There's no one lane for that," Comer said. She is arranging to meet with capital workforce partners, community colleges, and any community based organizations that are willing to collaborate; ACE may play an important role in forging those connections.
License distributions will work through a lottery system; after applicants are selected through the lottery, the Social Equity Council decides if the chosen applicants qualify. In December, Comer said the council will start parsing out possible income and residency requirements as well as business verifications that will determine which applicants ultimately receive licenses.
McKinney noted that the manifesto should assist its target audience of potential entrepreneurs — as well as policy makers — in determining answers to questions like ​"What is a good, workable and understandable joint venture?" especially since many individuals applying for these licenses will need to partner with financial backers in order to start off their businesses.
The council may use those guidelines to inform their selection process. The goal, Comer said, is to make sure that the ​"social equity applicant that's coming forward with this partner actually has an ownership stake in it… cause what we don't want is predatory establishments. What we don't want is frontmen."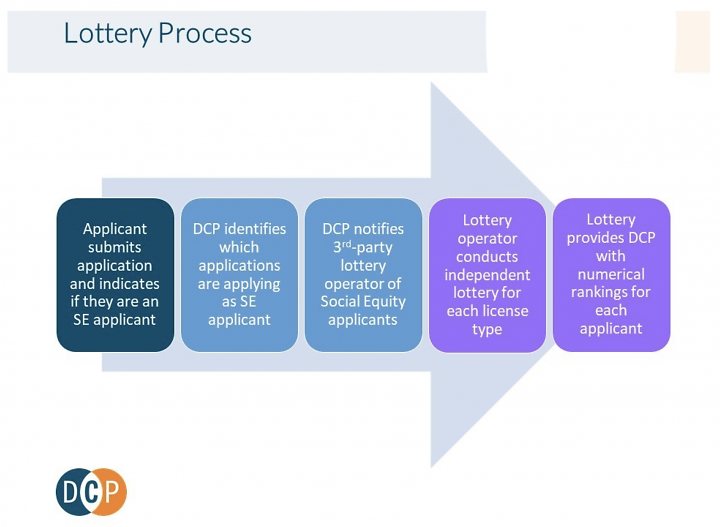 McKinney illustrated the current moment around cannabis — including its natural risks and possibilities — by pointing out that a multi-state cannabis company closed one deal and signed two more this month to acquire three more firms with marijuana dispensaries as well as a cultivation facility in Connecticut. In particular, the company purchased Connecticut Pharmaceutical Solutions' cultivation and production facility in Rocky Hill, an acquisition that included $113.25 million in voting shares.
"That tells you that the licenses that will be granted in a lottery process are extremely valuable… If the entrepreneurs that wanna start these businesses do not have the support, the capital, the management support, the community support, they will be operating behind the eight-ball," McKinney said.
"Opportunity waits for us out there," Carbone summarized. ​"It's our job to seize the moment."