The marijuana industry has evolved greatly over the years. One thing that hasn't changed within the stoner community is the love for a good blunt — but even blunt wraps have evolved in their own way.
Now, with the introduction of hemp wraps, there are more options for the health-conscious consumer. Having so many brands to choose from can be both a blessing and a curse. This list features the best blunt wraps to consider purchasing for your next smoke sesh. However, the best blunt wraps are in the eyes of the beholder, or in the eyes of the smoker, for that matter. Unlike joint wraps, there's a little bit of nuance when purchasing blunt wraps since you're dealing with an actual leaf instead of a slice of rice paper.
Blunt wraps also come in a wide selection of flavors. Ranging from organic to vegan, there's a wrap for every toker. Our list includes legendary blunt brands that have stood the test of time for decades, as well as newer brands. Whether you're new to the weed game or an OG to the blunt scene, we can help you find the best blunt wraps for you and your lungs!
Every smoker knows there's nothing worse than making a special trip to your local head shop, only to find they don't have the weed wraps you want. For this reason, it's always nice to have backup blunt brands that you like.
Choose from our list of the best blunts wraps in the nation right now, that are featured everywhere from billboards, to blogs, to marijuana news.
1. Juicy Jay's: Flavorful Hemp Wraps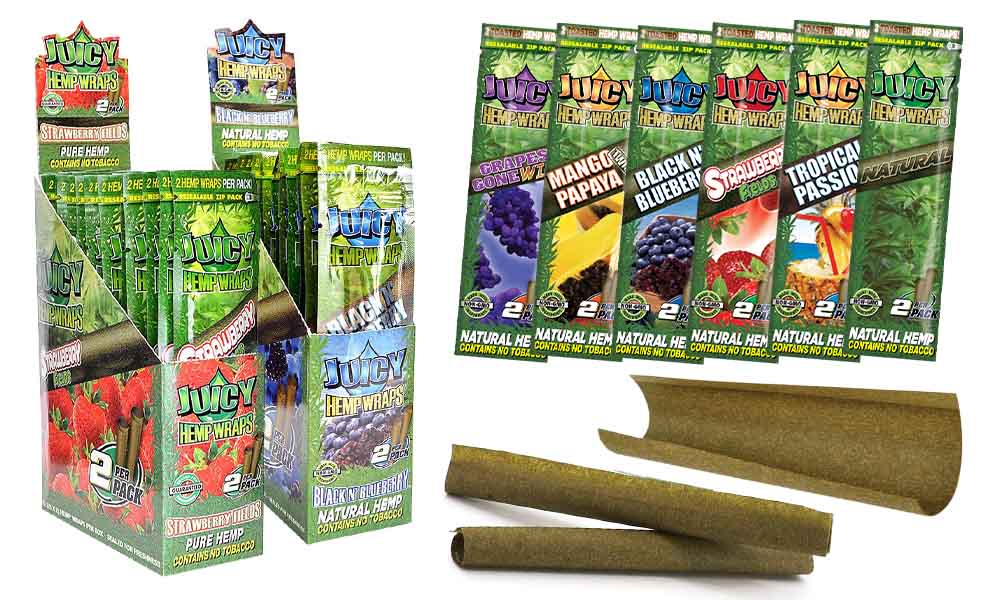 One of the stoner community's most beloved brands — a staple in the culture — is Juicy Jay's hemp wraps, created by none other than Josh Kesselman, the creator of RAW papers. Just like their rolling paper counterparts, the Juicy wraps are some of the best blunt wraps filled with immense flavor to elevate any smoking experience, whether you're blazing ganja or tobacco.
Juicy hemp wraps take a flavorful, health-conscious avenue towards smoking a blunt. These could be your perfect match if you enjoy flavorful blunts but also want an organic natural smoke that won't cause major damage to your lungs. These are one of the best brands for delicious and smooth-tasting blunt flavors.
2. High Hemp: A Healthier Avenue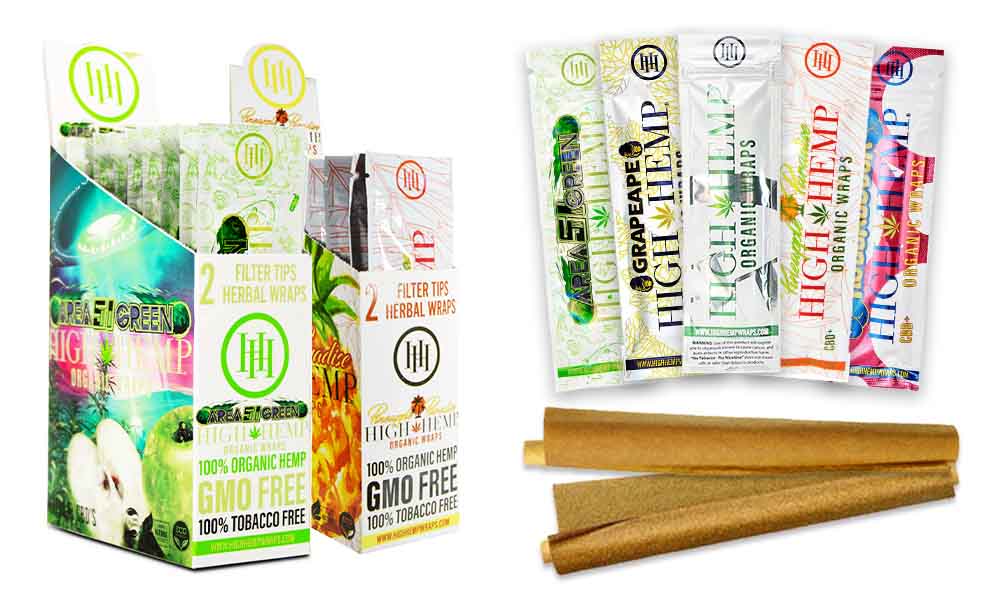 Made entirely of sustainably grown hemp, High Hemp herbal wraps are the perfect organic blunt wraps for the smoker that likes the aesthetics of smoking a blunt, but doesn't want all the harmful tobacco carcinogens. High Hemp also has an assortment of CBD blunt wraps for the tokers that like the properties of CBD just as much as they enjoy their THC. High Hemp's CBD wraps are a nice change of pace from the traditional blunt wrap. Newcomers who don't want to start with a harsh tobacco leaf should gravitate towards the smooth taste of these organic wraps.
3. Twisted Hemp: All Natural Wraps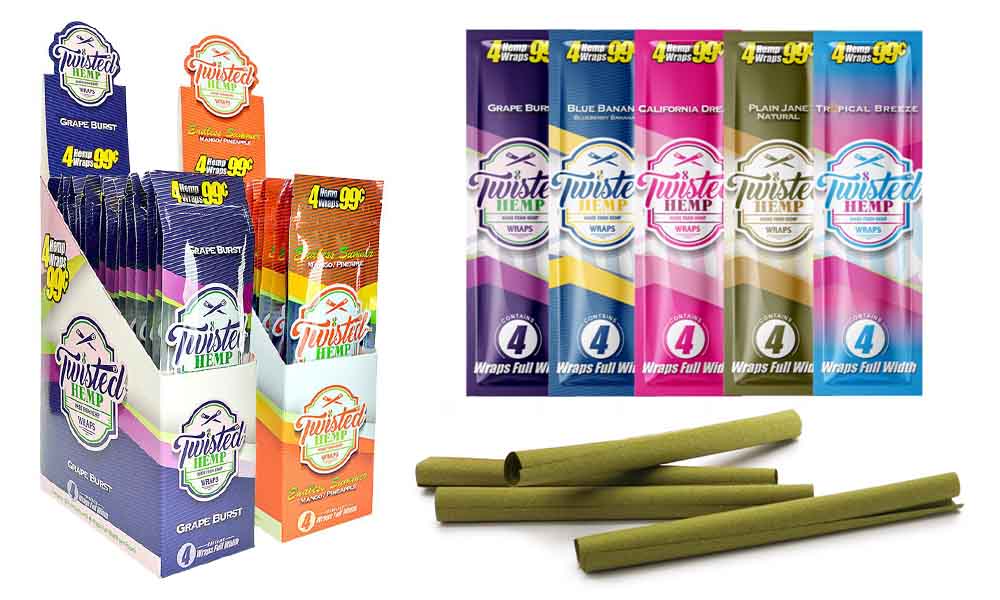 Smoking Twisted Hemp wraps will surely have you vibing high during your next smoke session. Unlike tobacco wraps, Twisted Hemp uses all-natural hemp and flavoring to create their papers. Undiluted by nicotine or tobacco, Twisted Hemp is the way to go for the health-conscious pot smoker that enjoys a nice healthy blunt. If you're someone who likes the feeling of splitting your blunt paper apart and dumping the guts out to replace it with some fluffy cannabis, this wrap may not be for you. However, if you enjoy a less harsh smoke that still burns nice and long, then these hemp wraps are right up your alley.
4. King Palm: Hand-Picked Palm Leaf Wraps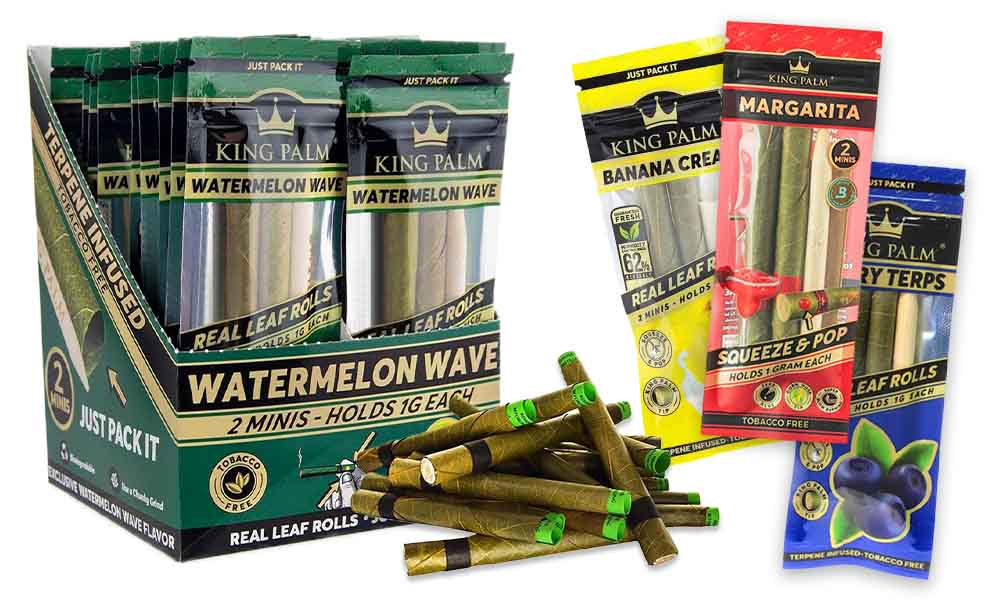 If you fancy King Palm wraps, you're a true herb connoisseur and care about the quality of your weed wraps. With King Palm blunt wraps, you can say goodbye to the tedious and messy rolling process; these blunts are pre-rolled and ready to be stuffed and smoked. Contrary to hemp wraps, King Palm uses all natural palm leaves, completely free from toxic chemicals and tobacco. The leaves are hand-picked from Cordia trees and cleansed with purified water. Slow-burning and available in a multitude of flavors — from Blueberry and Fruit Passion to Margarita, Banana Cream and even Magic Mint — King Palm wraps are an all-around solid choice, if you are up for a change.
5. Kingpin: Smoke Like a King
Kingpin hemp wraps are some of the most sought-after hemp wraps in the industry. These cigar wraps are made completely out of hemp but still provide a blunt-like feel that any midnight toker would enjoy. The Kingpin wraps come in a wide variety of flavors to suit your taste buds and elevate any smoke session. These hemp wraps are a great happy medium that allows you to enjoy a healthier, more flavorful smoke. The old timers who were smoking blunts before hemp became a part of the cannabis enthusiasts' dynamic may have a hard time warming up to the Kingpin blunt wraps. But for the novice cannabis smoker, these are easy on the lungs and perfect for learning how to roll blunts.
6. Endo: Pre-Rolled Wraps With A Twist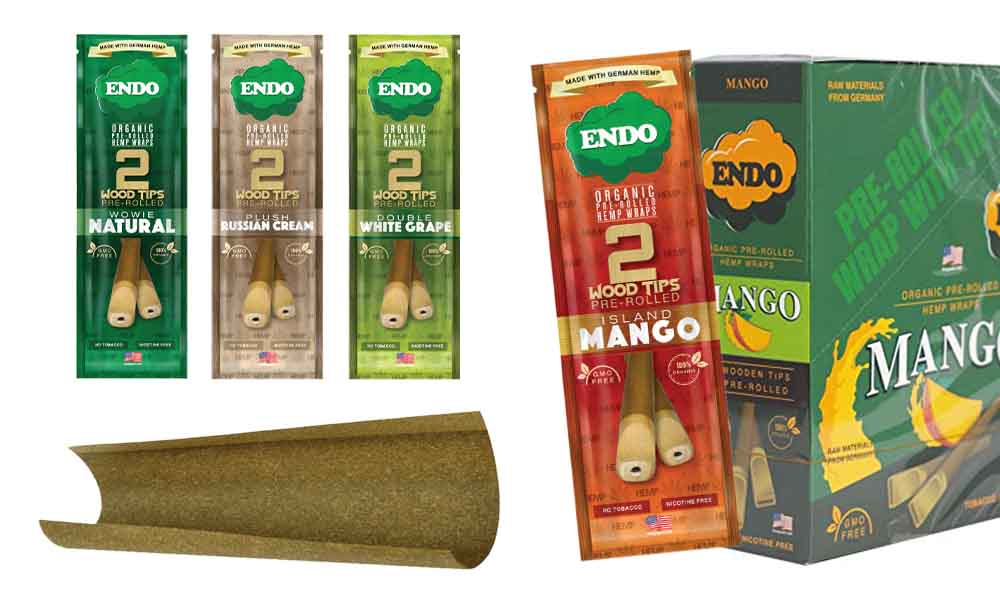 Endo hemp wraps are weed wraps with a twist — they're pre-rolled with a wooden tip at the end! With this built-in wooden filter, you no longer have to purse your lips onto the blunt wrap with the risk of getting the flavored residue on your lips or tongue. Reminiscent of Black & Mild cigar wraps, Endo wraps bring back an old school style to a new school form of smoking made entirely from hemp. These are perfect for the OGs that want to take a trip down memory lane. There's also a plethora of flavors to choose from, including Russian Cream and White Grape.
7. Billionaire Hemp Wraps: When You Want to Splurge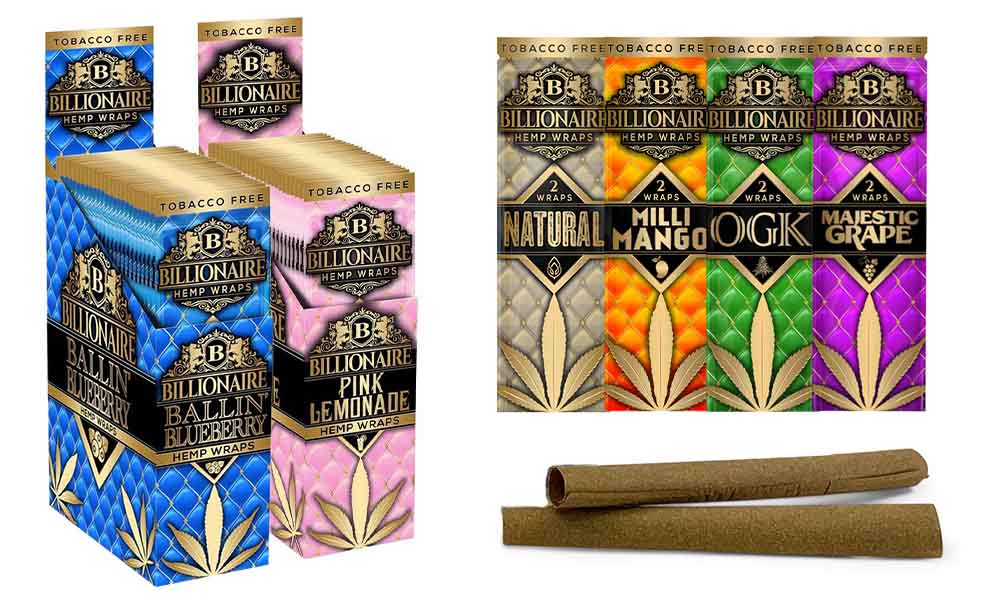 Billionaire hemp wraps are made from the finest hemp with the perfect amount of flavor added to complement your smoking experience. These are for anyone who wants to still taste their terpenes but also wants to add a little extra flavor to their smoke. The Billionaire hemp wraps are a great alternative to smoking regular blunt wraps as well as joint wraps. If you want to feel rich and splurge a little bit on some of the best hemp wraps in the game, then these are the perfect wraps for you.
8. Cyclones: Leave Your Head Spinning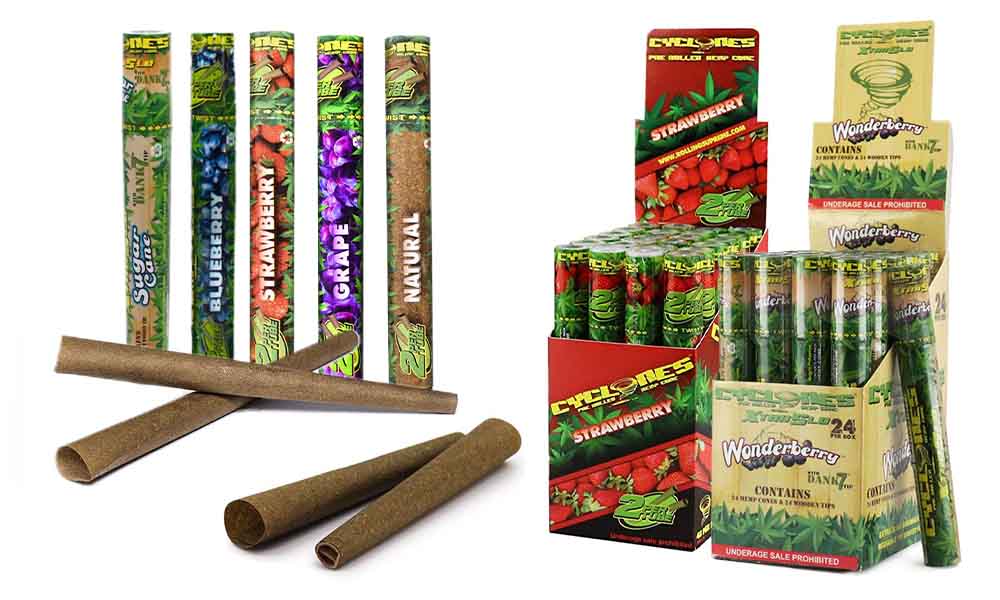 Cyclones hemp cones are one of those blunt wrap brands with a new school twist. Aside from having a mass assortment of flavors, Cyclones blunt wraps are made completely out of hemp in a pre-rolled cone that allows you to enjoy your herbs from beginning to end. These cones have a distinct way of burning, where the tip is very wide, leaving more space to pack your herb inside. This also allows for a slower burn, where you can really feel the effects of your ingredients. With Cyclones, smokers can pack copious amounts of herb into their blunt as opposed to joint wraps that can only hold a fixed amount.
9. Zig-Zag Wraps: The Legendary Classic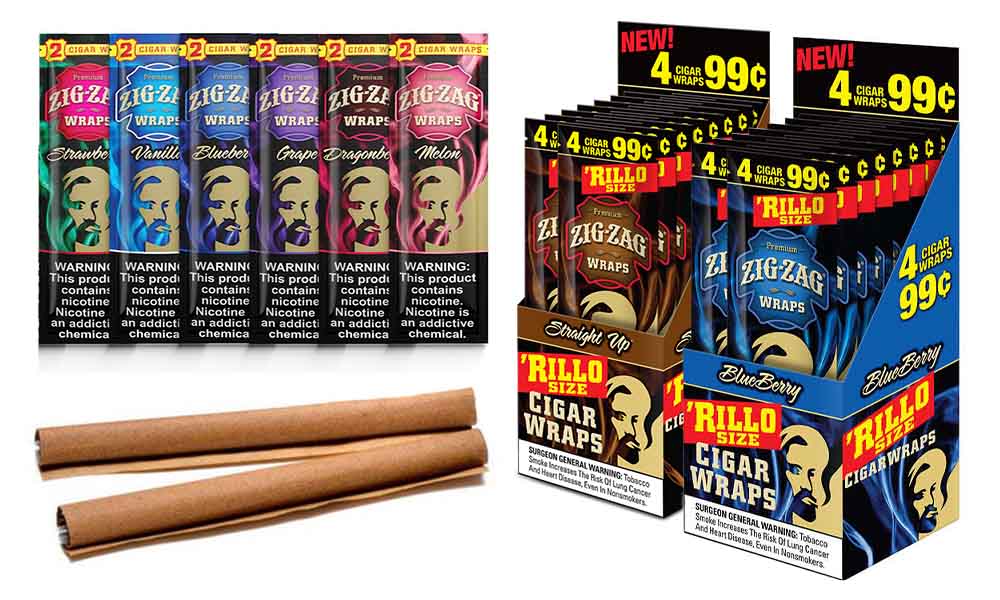 For more than 140 years, Zig-Zag Wraps has been a classic staple among joint paper brands. Since expanding into blunt wraps in 2009, the brand's cigar wraps have become a smash hit, thanks to their high-quality tobacco leaf and industry-leading processing. This is the most ideal blunt wrap for those who grew up rolling Zig-Zag joint wraps in their youth; now they can roll a nice blunt with the nostalgic brand.
If you're new to the blunt rolling game, these may be a tough brand to start with. Zig-Zag blunt wraps are the perfect wrap for someone who just wants to roll their weed and smoke — nothing too fancy. The blunt wrap brand also has a number of classic flavors, ranging from cherry to melon, to go along with their wraps. This classic brand has been a legendary name throughout the stoner community. If a quality smoke with a touch of flavor is what you're into, you'll enjoy Zig Zags.
10. Dutch Masters: A Versatile Blunt Wrap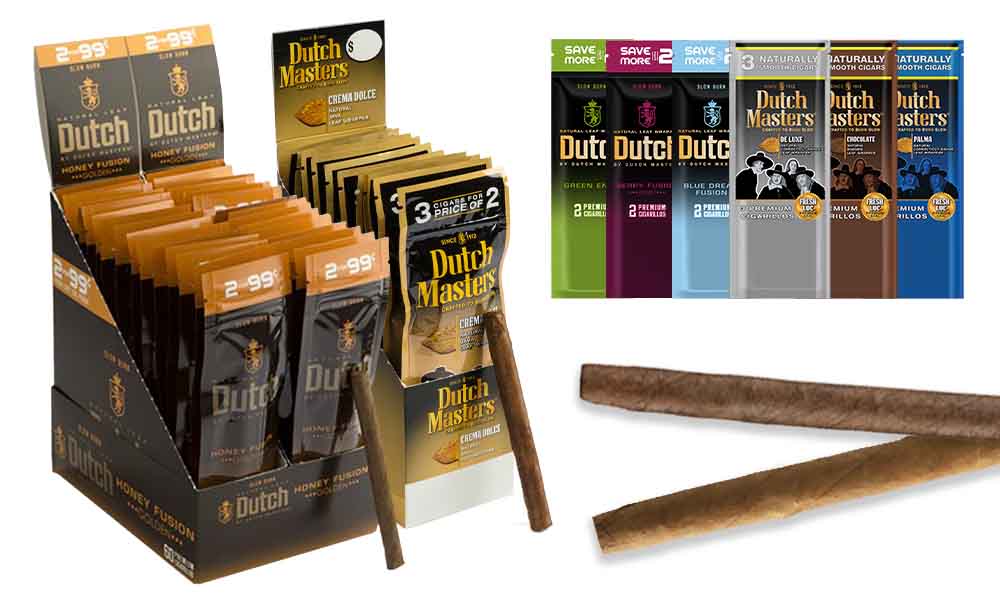 The Dutch Masters brand, most commonly known as "Dutch," is a favorite among habitual blunt smokers that is constantly stocked in any local smoke shop or gas station. The slow-burning tobacco leaf is easy to roll, and very forgiving when it comes to making mistakes. There's nothing better than smoking a nicely rolled honey fusion Dutch blunt, along with their illustrious assortment of flavors. Dutch blunt wraps are great for the OGs to roll up with as well as the new smoker who is just learning to roll and figure out his preferred blunt wrap.
11. Swisher Sweets: A Top Cigarillo Brand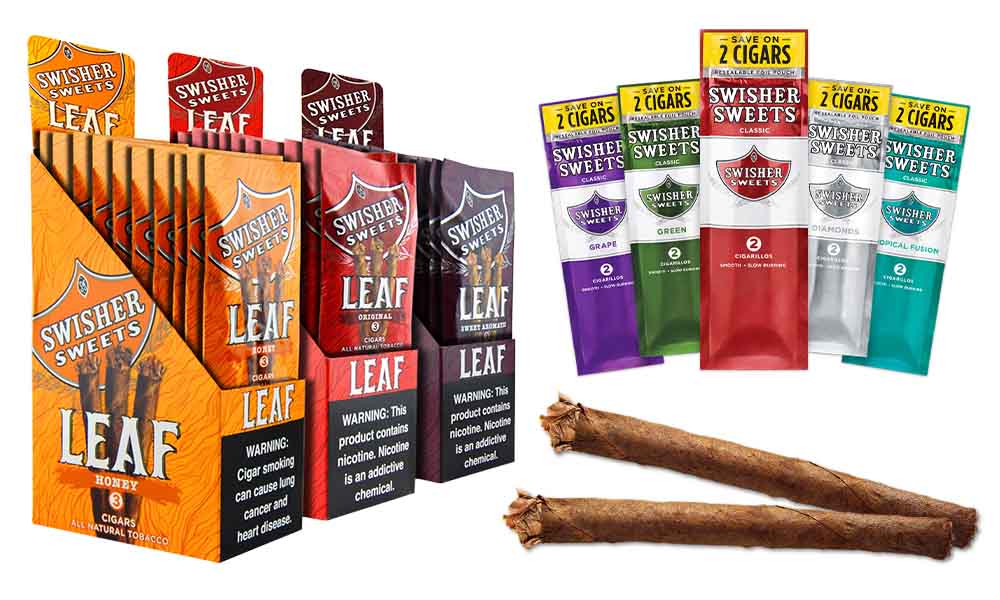 Swisher Sweets are one of the most popular names in the blunt wrap industry. They're the first brand you see when you walk into a gas station or head shop. Swisher blunt wraps are akin to any Pokemon starter pack that you saw in any grocery store; they're a dime a dozen and are just to get you started on your journey. These wraps come in a ton of different flavors. While they don't provide the longest burn, you do get a smooth smoke with a nice hint of flavor. Swisher blunt wraps make great learning tools when first rolling, but once your skills have improved, you'll want to try out other wraps.
12. Optimo: Smoke Like a Pro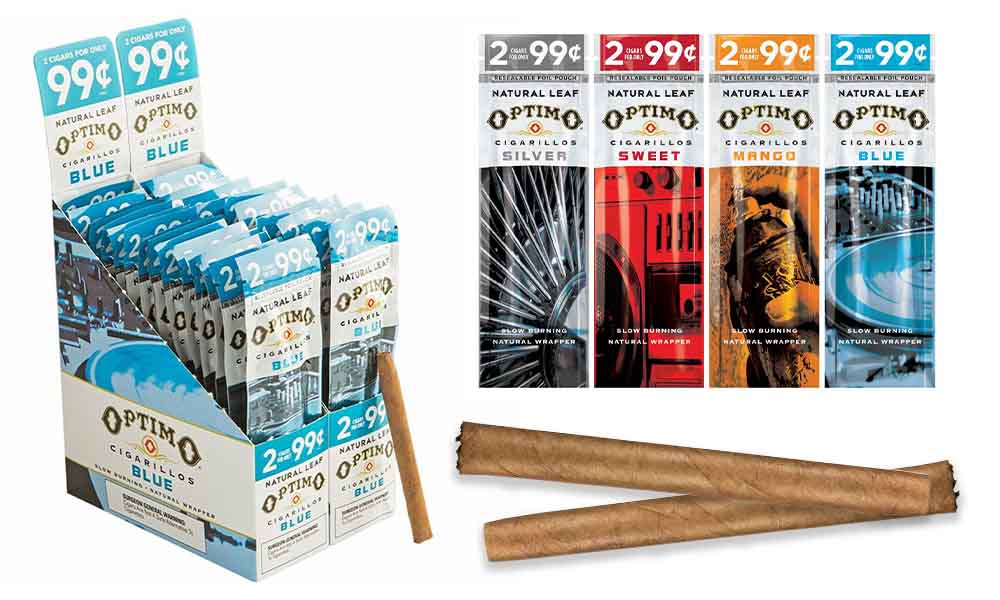 While being widely celebrated by the likes of The Notorious B.I.G. and Young Thug, Optimos are legendary among blunt smokers and rappers alike, while still being quite underrated. This cigarillo brand prides itself on its ability to produce a leaf that's all-natural tobacco. It provides a nice, smooth, slow burn every single time. There's nothing better than opening a fresh pack of Optimo wraps to fill with some fresh, dank bud to relax after a trying day. These blunt wraps are easy to roll with, too: The leaf is very soft — not too stiff — allowing for a consistently smooth smoking experience. Optimo blunts are perfect for any social gathering or solo sesh; they burn slow, and they have a plethora of great flavors to choose from. If you're a cannabis smoker that likes a nice slow burn when smoking with a wrap, then give Optimos a try.