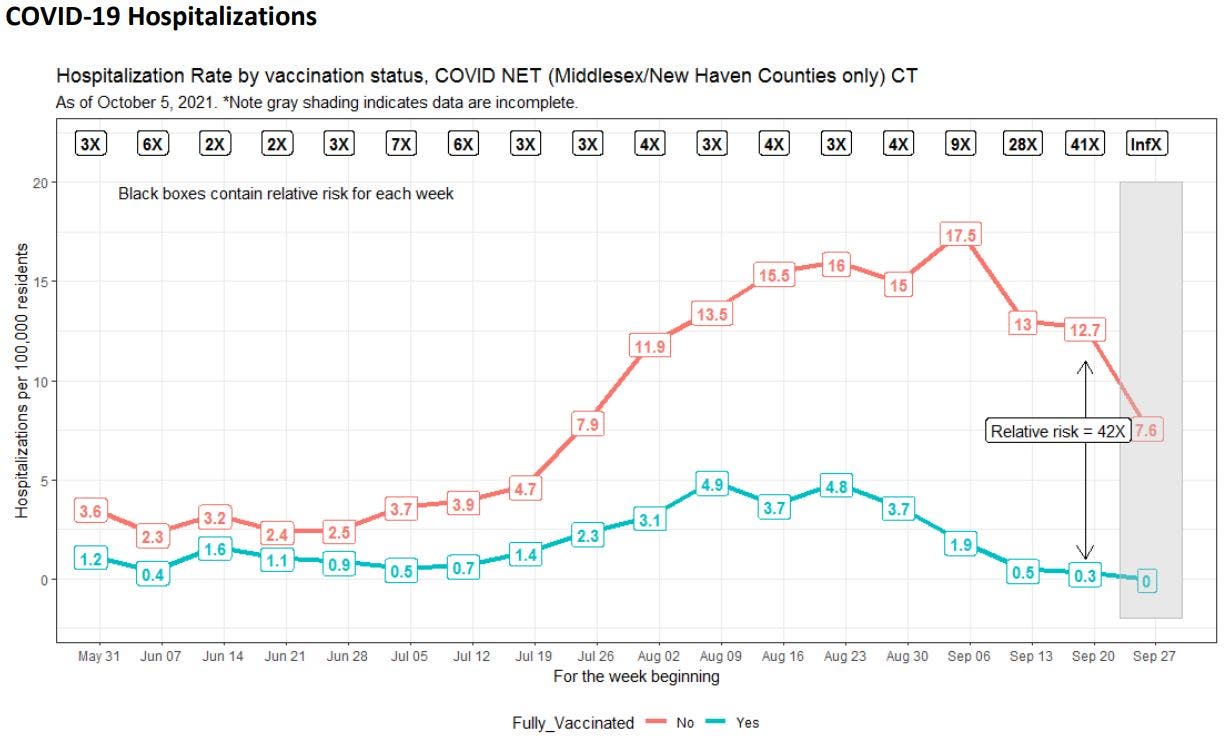 CONNECTICUT — Residents suffering from an uncontrolled dependence on marijuana, alcohol, cocaine, opioids and tobacco have something else to worry about. A new study indicates they may be more likely to suffer a breakthrough case of COVID-19.
A breakthrough case is one contracted by someone more than two weeks after they have completed their vaccine series.
The results of the study, funded by the National Institute on Drug Abuse, which is part of the National Institutes of Health, were published Tuesday in the journal World Psychiatry.
While breakthrough infections were seen in 3.6 percent of vaccinated people without substance use disorder, the study found that 7 percent of those with SUD had breakthrough infections.
The study did not dig into the causal relationship between substance dependency and breakthrough cases (if any), only the correlation. In fact, when researchers quantified and discarded factors such as economic hardships and underlying health conditions, any heightened risk of coming down with COVID-19 vanished.
That said, the study showed marijuana users at the greatest risk for breakthrough cases among the SUD community, at 7.8 percent.
So is it something in the weed itself? Or in the joint-bogarting habits of the marijuana-dependent community?
A NIDA spokesperson told Newsweek that "[I]ndividual behavior patterns and social conditions may be a major contributing factor above and beyond simply exhibiting problematic substance use patterns, such as lack of access to reliable information, sharing joints, etc."
---
The Connecticut Department of Public Health is reporting that as of Thursday, it has identified 14,419 breakthrough cases of COVID-19 in the state.
Of the 2,361,627 persons who have had both jabs, 0.61 percent of Connecticut's fully vaccinated persons have contracted the virus, up 0.03 percent from last week's report. Out of the 1,662 cases of COVID-19 recorded by the DPH in the past seven days, 510, or 30.7 percent, were among people who had already been completely vaccinated, up just over 3 percent compared to the previous week.
One hundred and twenty-seven coronavirus-associated deaths have occurred among the 14,419 fully vaccinated persons confirmed with COVID-19. These deaths represent 11 percent of all COVID-19 deaths since Feb. 9, 2021, up 1 percent from last week's report.
Nationwide, as of Oct. 4, 6,617 fully vaccinated people have died as a result of the virus, up from 5,226 the previous week. Eighty-six percent of them have been age 65 or older, according to the Centers for Disease Control and Prevention.
Statewide, the rate of COVID-19 related deaths have slowed during the last week's reporting period. Thirty-eight residents died over the past seven days, down from the previous week's report of 53 deaths. That brings the state coronavirus death toll to 8,667.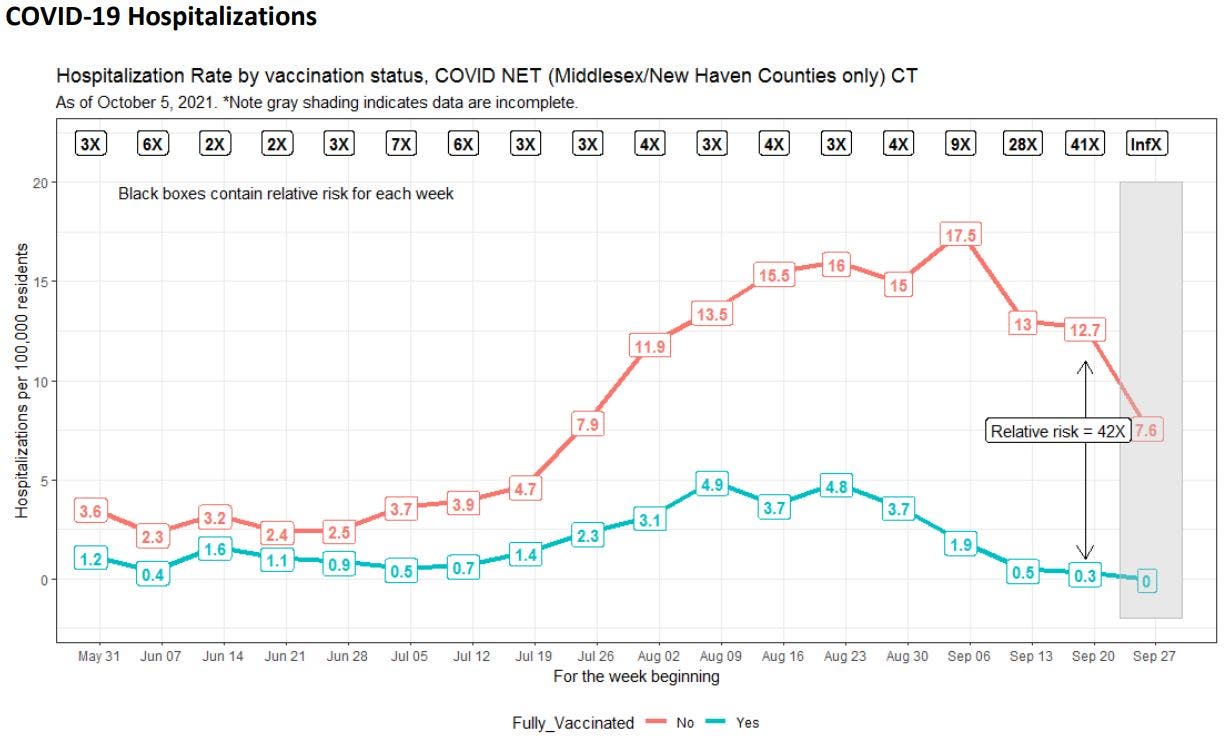 The charts above and below show the "relative risk," or the difference in risk when comparing rates between vaccinated and unvaccinated persons.
The latest data show unvaccinated residents have a 5-times higher risk of dying from the coronavirus, compared to the vaccinated. Their risk of hospitalization is 42 times greater.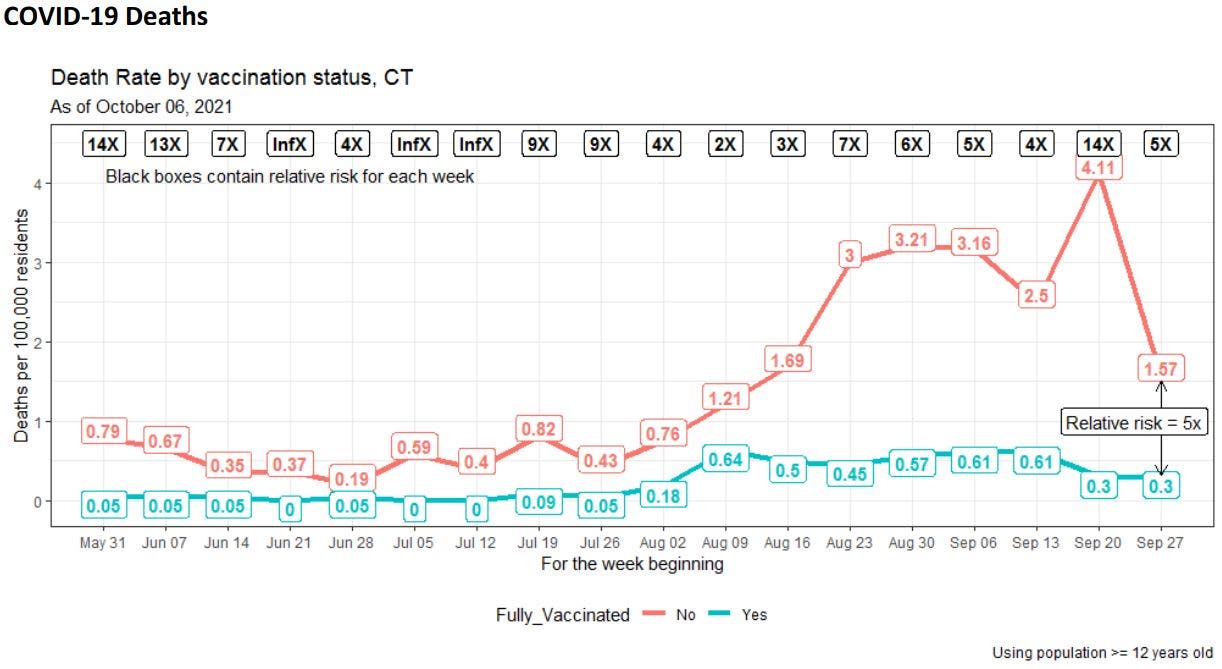 According to the latest weekly release of statewide data from DPH, 2,361,627 residents out of 3,105,947 eligible people have been fully vaccinated, yielding a 76 percent vaccination rate statewide. Connecticut continues to claim among the highest vaccination rates in the country.
Those residents fully vaccinated against COVID-19 include more than 95 percent of those over the age of 65, 90 percent of those between 55-64, 82 percent of those between 45-54, 82 percent of those between 35-44, 74 percent of those between 25-34, 69 percent of those between 18-24, 79 percent of those between 16-17, and 69 percent of those between 12-15.
Residents in the eastern area of the state, with the highest coronavirus infection rates, are also least likely to be fully-vaccinated against COVID-19, according to the data released by DPH. Of all Connecticut municipalities, only Canaan has a fully vaccinated population (1,053).
Out of the 1,634 cases of COVID-19 recorded by the state Department of Public Health in the past seven days, 515, or 31.5 percent, were among residents who had already been completely vaccinated.
Hospitalizations climbed slightly, by four beds, in the latest data. As of the end of last week, there were 234 residents being treated for the virus inside Connecticut hospitals.
Most of those hospitalized (95) are in Hartford County.
---
See Also: Iconic Pizzeria Set To Open Newest Location In CT: Here's Where
---