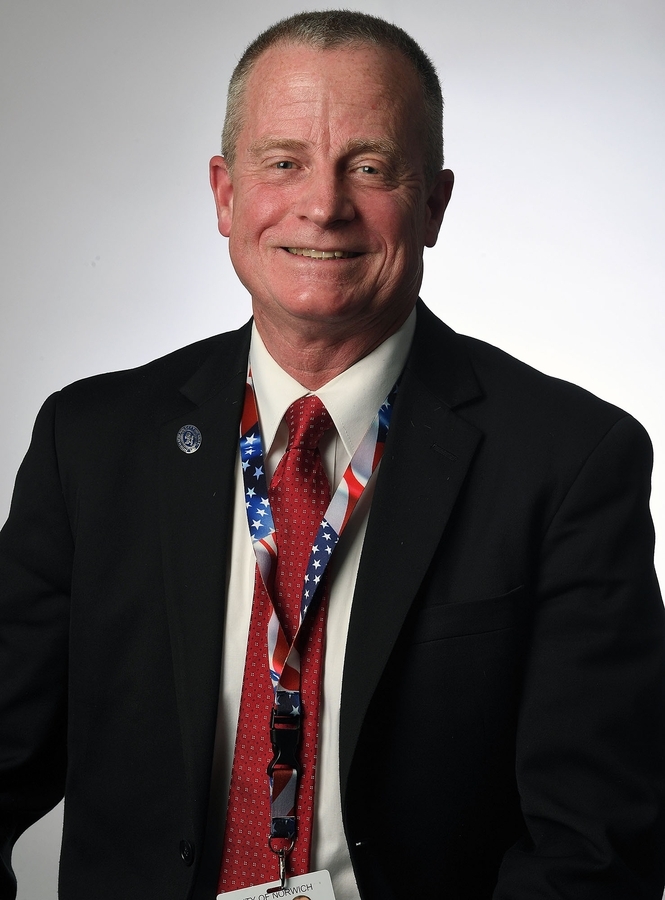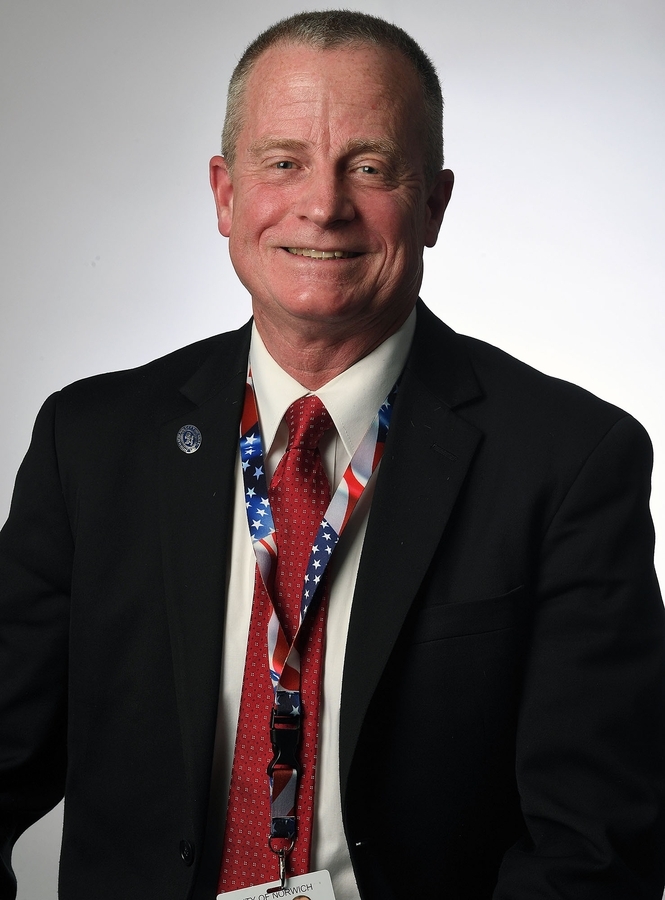 New London — Republican Mayor Peter Nystrom and Democratic City Council President Pro Tempore Mark Bettencourt differed on fiscal issues, retail marijuana sales and other matters during a mayoral campaign debate hosted by The Day on Wednesday.
But the two candidates agreed on many other issues facing the city, such as the need to address flooding and the city manager's citywide mask mandate. Both said they would vote in favor of the Nov. 2 referendum question to bond the city's $145 million pension debt.
Nystrom said he supports marijuana manufacturing facilities in Norwich but not retail sales. He called marijuana "a gateway drug" and said retail sales would be a risk to youths. Bettencourt said restricted marijuana sales to adults would be acceptable.
Nystrom offered strong words regarding the dozens of unpermitted short-term rentals now operating in the city. He cited the long-running dispute between the city and the owner of three large-scale event venues in residential neighborhoods.
Nystrom said while all short-term rentals are illegal in Norwich, most operate quietly and offer owners of large historic mansions a way to pay for their investment.
But Nystrom said the city should be aggressive against "bad people" violating public safety and zoning codes. Norwich has filed a civil suit against the owner of three problem properties on Broadway, Washington Street and Mediterranean Lane. He said criminal fines and an arrest should follow.
"It is our focus to have this person, and it's really one person principally, arrested and charged and shut down," Nystrom said, "and that's what has to happen."
Nystrom will "insist" that police put no parking signs on narrow Mediterranean Lane. "They cannot abuse that neighborhood anymore," he said.
Bettencourt said he supports a proposed draft ordinance to regulate short-term rentals, calling it a "business opportunity." The ordinance does not include large-event venues.
Bettencourt said if the city had adequate enforcement staffing, it would not have taken years to address the ongoing dispute.
"It's been literally seven years, I think, that this has been going on," Bettencourt said, "and it's really kind of a failure that it's taken this long to actually go to court to try and stop something that's so obviously not allowed by zoning. I would certainly try to be much more aggressive in trying to deal with those kinds of specific issues."
On fiscal issues, Nystrom stressed that it has been council Republicans looking out for the taxpayers and reducing tax rates as much as possible. He said a sharp tax hike in 2014 caused the Democrats to lose the council majority and the mayor's office in 2015. He admitted the city Public Works Department took the biggest hit in staff cuts, but the city is working now to hire a new blight officer and part-time zoning officer.
"We want to make sure the city is working efficiently, and the public's dollar is protected," Nystrom said.
Bettencourt responded that the blight and zoning positions were added under the current Democratic majority City Council. He said investing in Public Works staff to clean streets and zoning officials to improve neighborhoods adds value to homes and businesses.
"We need to have those types of positions in order to improve the city of Norwich and make the city a better place to live, work and play," Bettencourt said.
The city's separate paid and volunteer fire services has been a contentious, partisan issue for years. Nystrom strongly opposed a recommendation in the Democrat-supported fire services study released in Feburary to create a fire services director to oversee the five volunteer and one paid fire department. Nystrom called the position "a seventh fire chief."
Nystrom said the six fire chiefs — three of them new — are working with City Manager John Salomone to address the fire study recommendations. He said the seventh position was not needed, as the city manager had the final authority on fire services issues.
Nystrom said the fire director position is "an unfunded position" that already leaves a financial hole in next year's budget. But Bettencourt corrected the mayor that the ordinance creating the position was rescinded by the council, so there is no position on the books.
Nystrom said upgrading the antiquated and inefficient fire dispatch system and radios was the top priority in the study, and that is being addressed by the chiefs and city manager. Bettencourt countered that the autonomy of the six departments is hindering the upgrade.
"You have six different fire departments, all with their own ideas about how things should work," Bettencourt said. "They're all autonomous. The problem is we're one city, and we need to start thinking like that. That's the problem."
Nystrom said the department are legally autonomous, and the chiefs are "fully aware" this is a bone of contention with the current council and future council. "And I expect they will address it properly," Nystrom said.