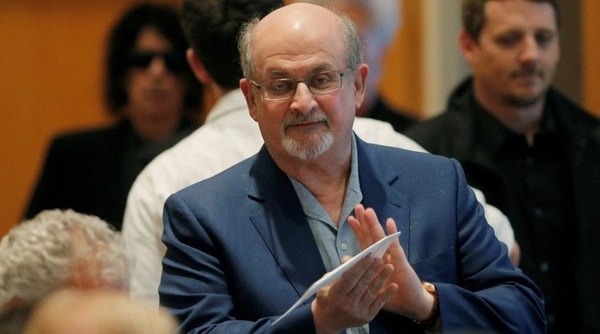 It was Salman Rushdie in January 2013, at The Indian Express, where he had gone through the Idea Exchange, the newsroom's weekly interaction with newsmakers.
He was referring to his 1988 novel that had prompted a series of death threats against him and forced him to live in hiding for nearly a decade after a fatwa was issued against him by the religious leader of the 'Iran, Ayatollah Khomeini.
Details are still sketchy about his condition and the man who attacked him, but Rushdie was reportedly on stage at the Chautauqua Institution in Chautauqua, New York, when the attack took place. (REUTERS/Brian Snyder)
On Friday, Rushdie, 75, was attacked by an unidentified assailant in Chautauqua, New York, as he waited to deliver a lecture.
Upon its release, The Satanic Verses was banned in countries around the world for allegedly hurting the religious sentiments of Muslims for its satirical portrayal of the Prophet.
Incidentally, India had been the first country to ban the book.
"The ban was a thorny moment, but it wasn't the only moment. At the time of the ban, there were no copies available in India," he said.