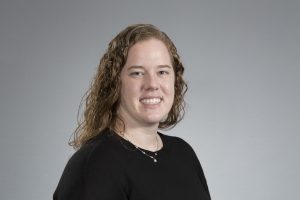 On February 26 the UConn School of Pharmacy celebrated pharmacy alumni through the 2022 UConn Pharmacy Alumni Awards event, this year held online.
"Like so many before them, these alums have demonstrated remarkable achievements and are outstanding representatives of our school" said Mary Inguanti, President of the UConn Pharmacy Alumni Association. "The awardees, each very accomplished, have been recognized based on nominations received by the association."
The following copy is excerpted from the Alumni Awards script:
Colleen Teevan, Pharm.D. – Tradition of Excellence Award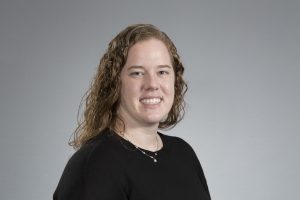 Colleen Teevan is a member of the UConn Doctor of Pharmacy Class of 2010. While at UConn, she was in the Honors Program and also minored in Molecular and Cell Biology. After completing her PGY1 Pharmacy Residency at Saint Joseph Regional Medical Center in Mishawaka, Indiana, Teevan moved to Illinois where she was a PGY2 Critical Care Resident at Midwestern University in Chicago. In 2012, she returned to Connecticut and joined the Hospital of Central Connecticut as the Emergency Department Clinical Pharmacist.
Teevan subsequently moved to the role of Critical Care and Neonatal ICU Pharmacist, and, within a few years, initiated a pharmacy residency program for The Hospital of Central Connecticut. She served as the inaugural PGY1 Residency Program Director for two years. Her current role is the Pharmacy Clinical Program Manager for Hartford Healthcare. She is Board Certified in Pharmacotherapy and Critical Care and was inducted as a Fellow of Critical Care Medicine this year. She has numerous publications and poster presentations.
Teevan's teaching experience includes advanced pharmacodynamics classes for the UConn School of Nursing and precepting introductory and advanced pharmacy practice rotations for the School of Pharmacy. In 2014, she was honored as the UConn IPPE Preceptor of the Year for service learning, and she was selected as the Connecticut Pharmacists Association Distinguished Young Pharmacist in 2017. In recognition of her consistent leadership as a preceptor and dedication to the development of future pharmacists, Teevan was a recipient of the 2020 American Association of Colleges of Pharmacy Master Preceptor Award.
Teevan is active in several professional organizations, including the American Society of Health System Pharmacists and the Society of Critical Care Medicine. She serves on the School of Pharmacy Curriculum Committee and is currently president elect of the Connecticut Society of Health System Pharmacists. She also served as president of the UConn Pharmacy Alumni Association and is currently a director.
Recently, residents across Connecticut saw Dr. Teevan in several of Hartford Healthcare's informative commercials during the COVID-19 pandemic, as she was among the first in the country to administer vaccines to adults and children. Photos and videos from those initial vaccinations were broadcast nationwide and published by numerous newspapers.
Philip Bunick – Exceptional Service Award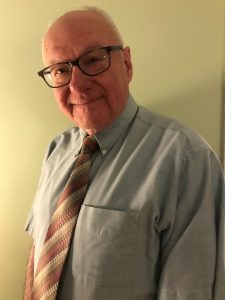 Philip Bunick is a member of the UConn School of Pharmacy Class of 1972, which is celebrating its 50th anniversary this year. He also earned a master's degree in Healthcare Management from the Hartford Graduate Center and Rensselaer Polytechnic Institute. Pharmacist Bunick's extensive health system pharmacy career began as a Staff Pharmacist at Lynn Hospital in Massachusetts, followed by his first Director of Pharmacy position at Symmes Hospital in Arlington, Massachusetts. In 1980, he became Director of Pharmacy at Manchester Memorial Hospital, and served in that role for almost half of his career. His subsequent positions were with Eastern Connecticut Health Network and Windham Community Memorial Hospital, leading to the role of Director of Pharmacy at the University of Connecticut Health Center in Farmington, Connecticut.
Following his retirement from UConn Health in 2012, Bunick continued to practice pharmacy as a per diem pharmacist, Experiential Education Field Service Coordinator with the School of Pharmacy, and most recently as a vaccine preparation specialist for the Town of Vernon, Connecticut. He also completed the contact tracer training course, and volunteered for the City of Hartford.
As a leader in health system pharmacy, Bunick's dedication to the School of Pharmacy and its students is exceptional. He precepted pharmacy students during their clinical rotations and witnessed many changes during three decades of experiential education. In addition, he volunteered alongside students at Migrant Farm Worker Clinics, became a lecturer for the Introduction to Health System Pharmacy course, and continues to interview prospective Doctor of Pharmacy students.
Bunick's many years of experience as a "volunteer patient" for the Pharmacy Communications course were and still are greatly appreciated by both the students and faculty. During the pandemic, he expanded his involvement to include "virtual patient" consultations with students taking the Pharmacy Communications course. His willingness to use technology to share his expertise provided continuity for the student pharmacists. Bunick is known for helping students to build confidence as they develop their communication, assessment, and patient education skills.
Bunick is the recipient of several professional awards, including the 2006 Pharmacist of the Year award from the Connecticut Society of Health System Pharmacists, the UConn Preceptor of the Year in 2013, and the Bowl of Hygeia Award from the Connecticut Pharmacists Association in 2014. His dedication to the education of UConn Pharmacy Students was featured in the School of Pharmacy "Celebrating our Alumni" publication for the school's 90th anniversary and in the Fall 1997 UConn Traditions magazine.
John Gadea – Distinguished Alumnus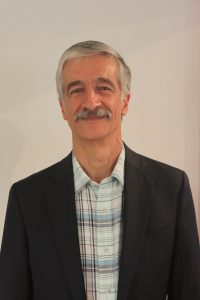 John Gadea graduated from the UConn School of Pharmacy in 1979 and began his career as a staff pharmacist at New Britain General Hospital. After several years, he entered public service as an agent with the Drug Control Division of the Connecticut Department of Consumer Protection. In 2016, he retired after serving more than thirty years with the Drug Control Division, including thirteen years as the director.
During his tenure, Pharmacist Gadea was responsible for setting policy for the Drug Control Division and promulgated many statutes and regulations that changed the practice of pharmacy in the State of Connecticut and influenced pharmacy practice throughout the country. Gadea's involvement in the passage of legislation includes the Governor's Opiate Abuse Bill that initiated pharmacist prescribing of Naloxone in Connecticut, the Medical Marijuana Regulations, the Pharmacist Vaccination Statue and Regulations, The Prescription Monitoring Program, The Controlled Substance Drop Box Program, and Collaborative Practice Regulations. He served as co-chair of the Governor's Prevention Partnership on Prescription Drug Abuse and served on the board for the Alliance of States with Prescription Monitoring Programs. Gadea also co-chaired the legislative working group on Automation in Long Term Care Medicare Dispensing and was on the forefront of many pharmacy practice changes as technology evolved. He testified before Congress regarding the Prescription Monitoring Program.
Because of his extensive experience in drug control policies, Gadea frequently presented to local healthcare organizations and consulted with other states that were looking to implement similar statutes and regulations. He also presented to both the Ukrainian National Government Drug Control Department and the China Food and Drug Administration.
During his career, Gadea remained connected to the School of Pharmacy, serving on the board and as president of the UConn Pharmacy Alumni Association. He often provided Pharmacy Law Updates as continuing education for pharmacists and controlled substance prescribing lectures for the UConn School of Dental Medicine.
Among his many professional recognitions, Gadea is the recipient of several State of Connecticut Innovative Awards and was the 2015 recipient of the Daniel C. Leone Pharmacist of the Year Award from the Connecticut Pharmacists Association.
Since his retirement from the State of Connecticut, Gadea joined Green Check Verified, Inc as the vice president of program compliance. He also continues his involvement with the National Association of State Controlled Substances Authorities, serving as the webmaster.
"I want to congratulate all of our Alumni Award recipients this evening: Dr. Colleen Teevan, Philip Bunick, and John Gadea. You make our School very proud." Dean Philip Hritcko said wrapping up the evening. "Thank you for all you do to support our School."