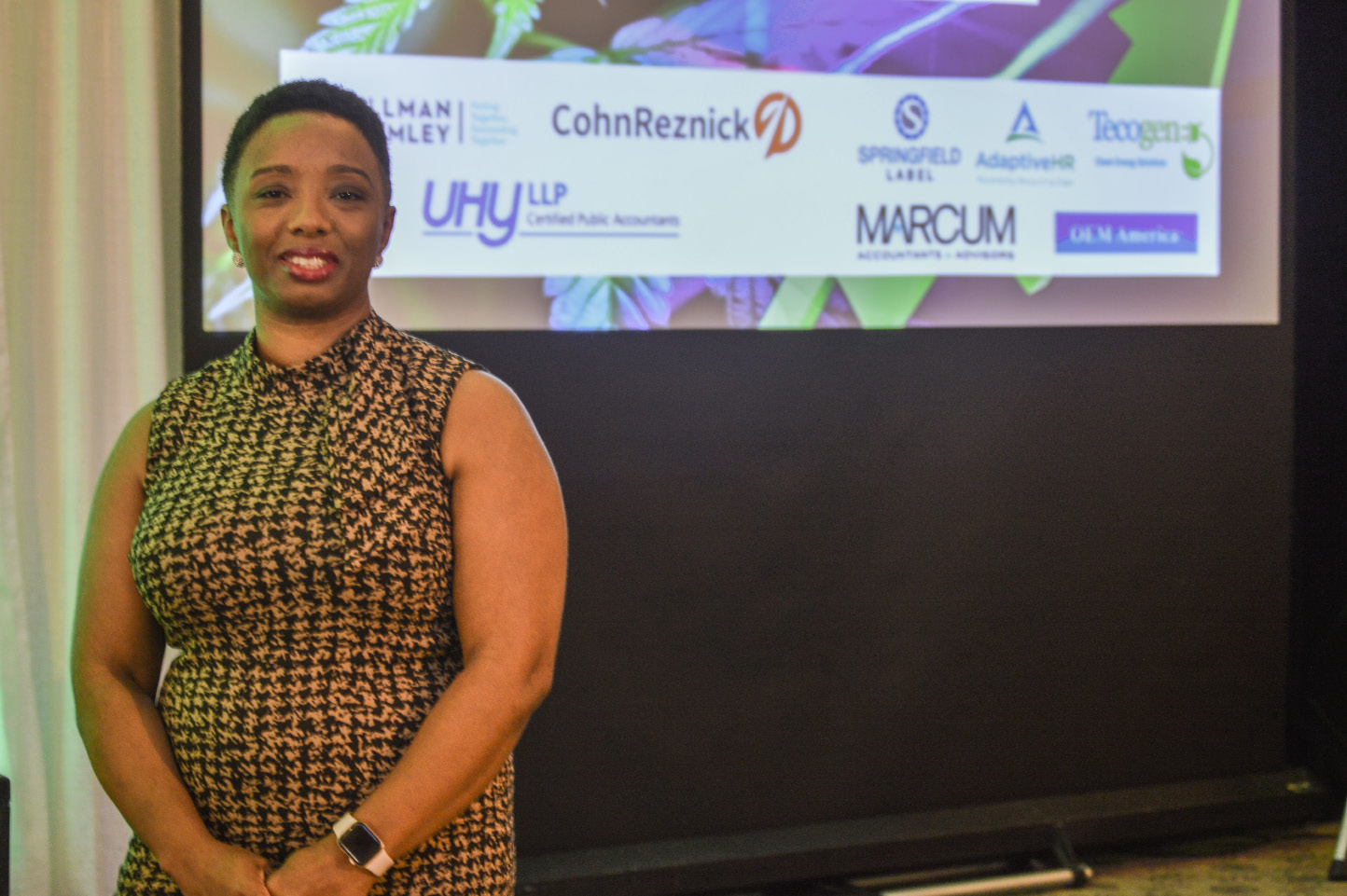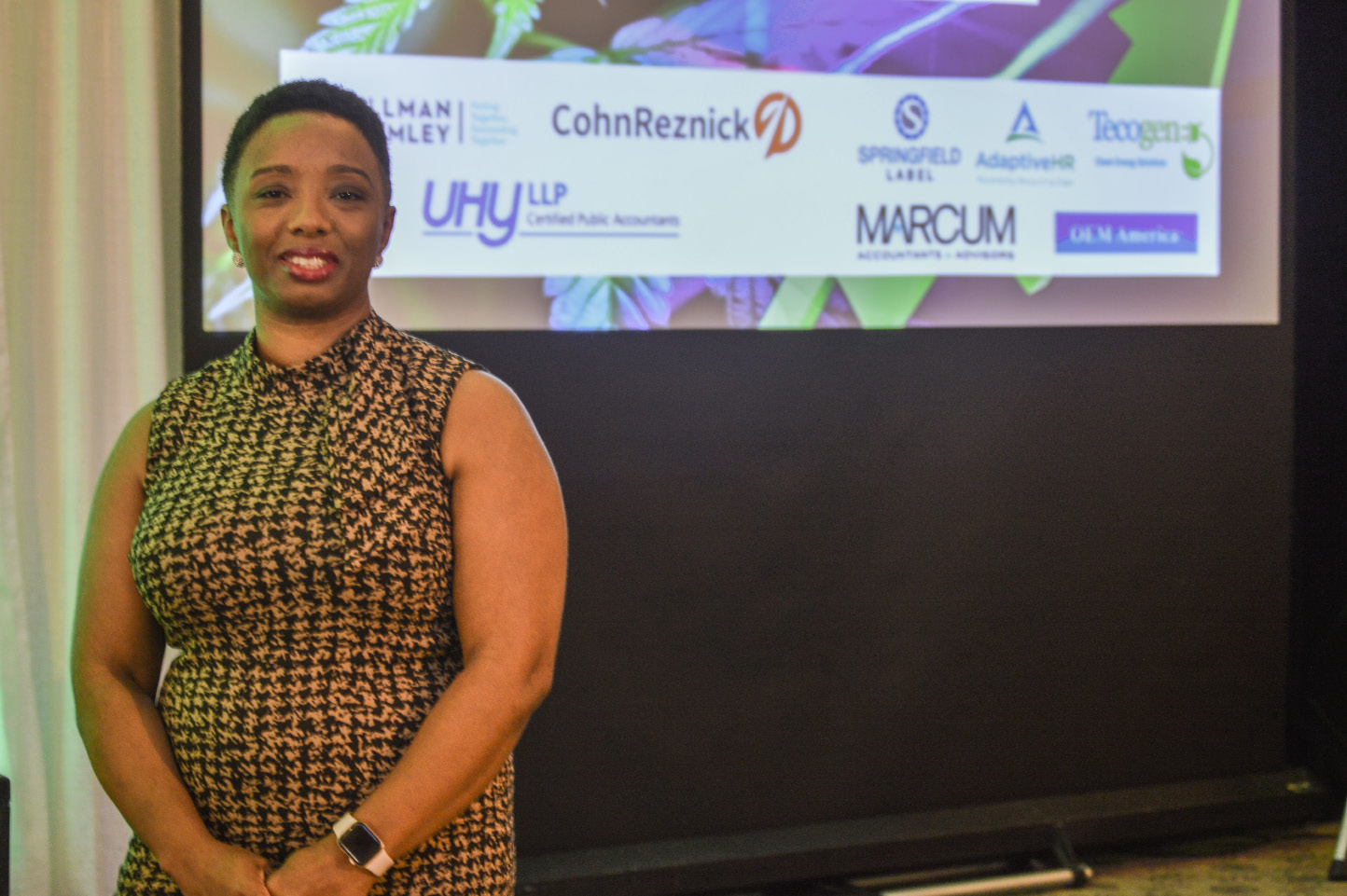 As Hartford tries to breathe new life into its long-moribund downtown retail scene, Tiana Hercules is scoping out possible locations in the neighborhood for a new venture she's trying to launch: Lady Jane, an adult-use cannabis dispensary.
"I want it to be a luxury destination that not only carries top-of-the-line cannabis products, but really is a space to bring people together around education, cannabis and promoting conscious consumption," Hercules said.
Hercules, a criminal defense attorney at Hartford-based The Stills Law Firm, recently completed a startup accelerator program with Hartford nonprofit reSET, which works with local socially-conscious startups in its Parkville office. After spending about 10 weeks honing her business model and plan, Hercules said she is taking meetings with prospective investors.
If she clears the myriad complicated hurdles of obtaining a state license, finding a downtown Hartford location amenable to a cannabis dispensary and securing capital to start the business, Hercules said she wants Lady Jane to serve not just as a retail outlet, but a community center.
The store would host events that offer guests marijuana-infused meals, celebrate cannabis culture, and provide education about the plant to people whose knowledge of it comes from DARE-era scare tactics. Further, she thinks it's important for Black people — especially women — to establish a place in the legal cannabis industry early on.
"If you look at the history of cannabis and how it was criminalized … I just think it's incredibly important for women and men of color not to get left behind," Hercules said. "I think we certainly need to be at the table when it comes to this industry."
Hercules said she is looking to raise at least $500,000 by early 2022. She said she will need about $1.5 million from investors to lease and build out a store, pay all license fees, hire a staff of about five employees and source enough inventory to last about 10 months. Her goal is to generate about $100,000 in monthly revenue within a year of opening.
Downtown Hartford makes sense as a location because the city's Planning and Zoning Commission recently created a draft zoning matrix that would allow retail sales in the center city.
Social equity opportunity
A homeowner in Hartford for nearly a decade, and a New London native, Hercules said she is eligible for social equity status, and intends to apply for a license through the social equity cannabis business lottery. Connecticut's legalization statute says 50% of cannabis companies must qualify as social equity businesses, which must be majority owned by someone who grew up in, or lived in for at least five years, areas that were disproportionately affected by the 50-year war on drugs.
These applicants enjoy advantages like reduced fees and preferential spots in lottery drawings for cannabis licenses.
The Social Equity Council has already determined that disproportionately-affected areas include parts of Hartford, East Hartford, Bloomfield and Manchester. It also includes parts of New Haven, West Haven, Bridgeport, Stratford, Stamford, Norwalk, South Norwalk and Waterbury. Combined, the geographies represent 22.8% of the state's population, and 66.7% of the historical drug convictions.
The social equity lottery will likely include a smaller pool of applicants, which increases the chance of success. And applicants not selected in the social equity pool will get another chance in the general lottery process.
Hercules said she is also open to partnering with other entrepreneurs, and would consider collaborating with a larger cannabis company on an "equity joint venture."
Under the law, medical marijuana growers and dispensaries that enter into such ventures pay half the fee to convert their license to serve the adult-use market, and social equity applicants that partner with them get access to capital and other resources larger businesses can provide.
However, any such deal would have to include leaving her in control of the company's direction and vision, she said.
"I'm open to any type of partnership that allows me to ultimately achieve my goal, which is to serve Black and Brown people in my community, to hire Black and Brown people in my community, to invest in my community, and to elevate cannabis as a healthy alternative for wellness," Hercules said.