Johnny's Ambassadors will present a free webinar by Laura Stack: "The Dangerous Truth About Today's Marijuana"
Tuesday, Sept. 14, 2021, 6:00 to 7:30 PM
Register here to join in on this free zoom.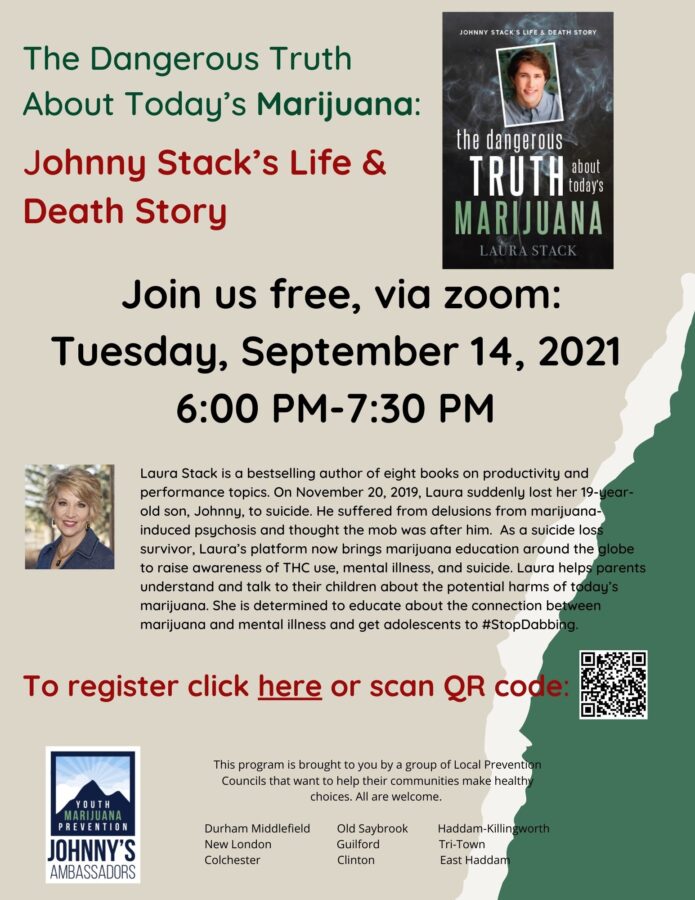 The Dangerous Truth About Today's Marijuana: Johnny Stack's Life and Death Story
Laura Stack, the founder of Johnny's Ambassadors, will be discussing the loss of her son, Johnny, the dangers of today's potent marijuana on adolescent brain development, and the connection of youth marijuana use to mental illness and suicide.
Laura Stack's 19-year-old son, Johnny, died by suicide on November 20, 2019, from paranoid delusion from using high-potency THC concentrates. Soon afterward, Laura started a 501c3, Johnny's Ambassadors, to educate parents and teens about the dangers of today's high-THC marijuana on adolescent brain development, mental illness, and suicide. In this session, Laura will share the story of Johnny's marijuana addiction from a mother's point of view, a poignant chronicle of the shocking descent from innocence to eventual suicide. Before marijuana, Johnny was a computer whiz with a 4.0 GPA and a perfect math score on the SAT. After marijuana, he stole his family dog from the home and threatened to kill it without payment from his mother to buy marijuana.
This program if brought to you by a group of Local Prevention Councils, including the Durham Middlefield Local Wellness Coalition, that want to help their communities make healthy choices. All are welcome.