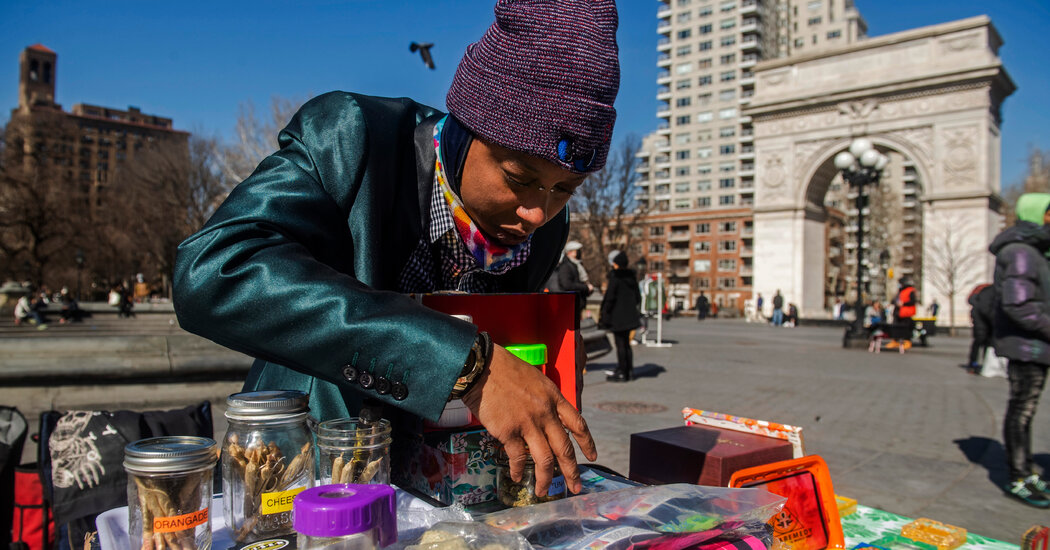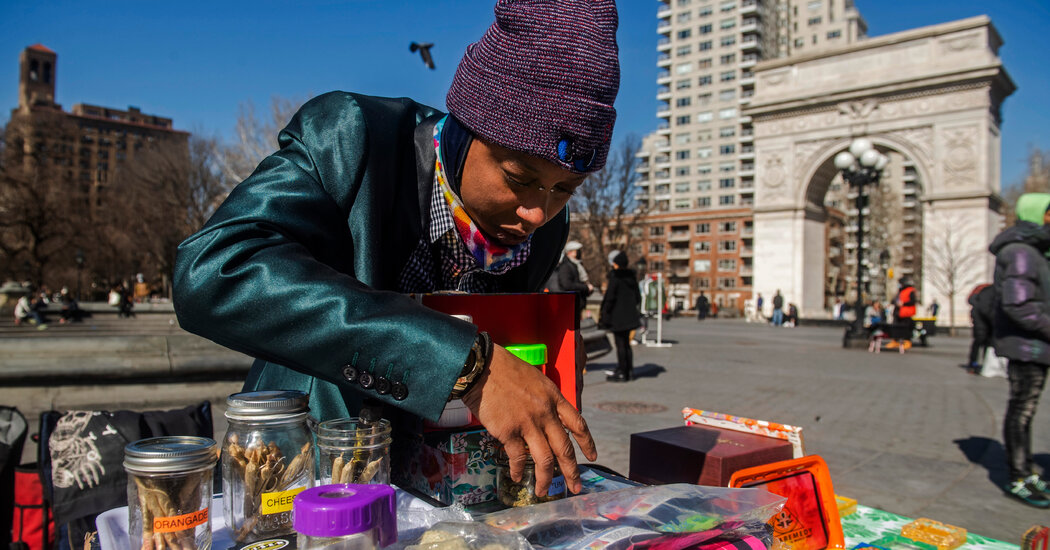 Here's what it's like to walk through Washington Square Park in Manhattan in the wake of legalization.
March 13, 2022
---
Wanting to invest in himself and be free of bosses, Terrence Gorham started selling customized T-shirts, hoodies and backpacks from a folding table in Washington Square Park a year ago. Like any good vendor, he noticed late last year when other tables started featuring something new: weed. Soon, he was offering pre-rolled joints and eighth-of-an-ounce pouches alongside his "Think Rich" clothing line.
"We're chameleons," said Mr. Gorham, 34, who once worked as a custodian. "We have to adapt to any environment. Weed's legal here, so I thought why not."
New York State legalized marijuana last September, and although the law allows for personal possession of up to three ounces of cannabis, regulations for sales have not yet been adopted. Direct sales, including those couched as "gifts" of marijuana offered with purchases of overpriced knickknacks or club memberships, are still prohibited.
On Thursday, responding to concerns that the overwhelming majority of people jailed in the past for marijuana charges were young people of color, Gov. Kathy Hochul said the state was earmarking at least the first 100 retailing licenses to New Yorkers who had been convicted of marijuana-related offenses, or their relatives.
Not every vendor is waiting for a license to get started. In Washington Square Park in Manhattan — a place that is no stranger to weed, surreptitiously sold or smoked — a breezy open-air market has emerged. On a recent sunny March day, customers chatted up vendors while deciding which strain to buy. As if welcoming visitors with canapés, one vendor stood hawking pre-rolls from a tray.
Tim Green, an advertising executive from Sydney, Australia, took in the scene as he smoked a joint he had just bought from a vendor. He offered his professional opinion about some of the more carefully arranged tables, including one with rainbow and psychedelic designs.
"It's got an old hippie vibe," Mr. Green, 55, said, still surprised by the open sales. "The designs could do with a bit of work. But you don't really have to advertise weed."
For vendors who remember the way young lives were once derailed by a joint turned up during a stop-and-frisk, it is also strange new day.
"I smoke too much weed to be mad at anybody," said a 21-year old vendor whose nickname, EZ, matched his attitude. "I've been dreaming about this day every day. Mistakes that were made in the past are being worked on."
EZ, who prefers to go by his nickname because selling weed is still prohibited, is a musician. He had been working at a restaurant — where is father still thinks he works — when he switched to selling cannabis to help finance his music.
"I tried to do straight work," he said. "But then reality hits." He said he makes in a day selling weed what he used to make in a week at the restaurant.
On most days, EZ arrives at the park by 9 a.m., commuting from his home in Brooklyn's East New York neighborhood, and works at a table with his business partner. They are friendly and chatty, offering customers $20 pre-rolls and free paper to roll recently bought herb.
"Coming to the park is different than selling in your community," EZ said. "Prices, appearance, preparation and delivery matter. People need weed and are willing to pay."
He and the half-dozen other vendors who set up in the park regularly know they are operating in a gray area, but they said the police had not bothered them by and large. When officers walk by, the vendors put away their products and stop sales. In one case, a police officer fist-bumped a vendor and chatted her up.
The Police Department and parks department did not offer a formal response, but officials at both agencies said they were working together to enforce vending regulations. In the first two months of the year, parks enforcement officers issued 20 summonses for illegal vending — of anything — in Washington Square Park, compared with 31 in all of 2021.
Just as the pandemic changed people's priorities, values and coping skills, Mr. Gorham thought it had also eased the way for selling openly. "This should have happened years ago," he said. "Maybe Covid made people be a little more lenient. It's hard out here, but the times are changing."
Selling cannabis bought wholesale using her earnings as a bike messenger helped a vendor who goes by AI emerge from homelessness. She said she had left home after relatives could not accept her being queer.
The History of Marijuana Legislation in New York State
---
Now, she presides over a busy and colorful table featuring cannabis edibles, pre-rolls and flower, as well as CBD lotions she sells under her Canaremedy brand, which she markets as a queer, Black-owned business. And yes, she — like other vendors — delivers.
"People want to smoke," she said. "We see this as an opportunity. We are the future, and this is a good opportunity to have a just economic system."
AI has two misdemeanor cannabis arrests — including one that landed her in jail at Rikers Island for five days around Christmas five years ago — that she plans to have expunged. She said she had friends and relatives who had also been arrested for marijuana possession.
AI, who preferred to use her nickname because of her arrest history, said she had anxiety and eczema, and that cannabis — smoked or in lotions — had eased her physical and emotional symptoms.
Now that New York has legalized marijuana, and with the latest announcement that the first licenses would go to people with cannabis convictions, her goal was to set up a storefront and expand her offerings. She had gotten her business documents in order and trademarked her brand.
"I've been a victim of incarceration and I have family members who were too," she said. "This is like a dream come true. Marijuana has been helping me for 12 years, and it's helped me so much, I want to create a company to help others. I have a lot to offer to the world when it comes to cannabis."