Three Indiana State students were killed and two occupants were injured in a single-vehicle crash Sunday morning in Riley.
Indiana State confirmed that ISU students were involved in the crash in a late morning news release. ISU's initial statement said there were "several" football players involved.
Later Sunday, it was confirmed that one of the students killed was freshman Caleb VanHooser. The Liberty Township, Ohio, native was identified as one of the victims in a social media post by his high school, Lakota East. VanHooser was a linebacker on the football team.
It is with heavy hearts that we mourn the loss of Caleb VanHooser, former senior Hawk and Indiana State football player who was called home to heaven this morning. We will never forget your contributions to our program. RIP #2. We love you. pic.twitter.com/cV5gh8ysJA
— Lakota East Football (@hawksfootball12) August 21, 2022
Another occupant of the vehicle was identified Sunday evening.
Omarion Dixon, a Lafayette native and redshirt freshman running back for the Sycamores, covered the crash in a social media post from his high school, Harrison in West Lafayette. The publication reported that Dixon had been in surgery, but his further condition was unknown.
As many of you know, Omarion was involved in a major accident overnight. He is out of surgery and still needs all the prayers he can get. Keep fighting, O. You got this, 47. 🔹🔸
— HHS Raider Football (@HHS_Raider_FB) August 21, 2022
The other three occupants of the vehicle were not identified at press time.
"This is a terrible tragedy," ISU President Dr. Deborah J. Curtis said in a university news release. "As we await additional details from authorities investigating this accident, our hearts go out to the families and friends of the students involved."
According to the Vigo County Sheriff's report released to the media, the crash occurred on Indiana 46 at Main Street in Riley in southeast Vigo County.
The vehicle involved left the road and hit a tree. When deputies arrived, the vehicle was on fire. Two occupants were freed from the vehicle, but the driver and two other occupants died at the scene.
The report released to the media Sunday morning indicated that the crash investigation was continuing.
VanHooser, who graduated from Lakota East in north suburban Cincinnati in 2022, did not play downfield for the Sycamores. He was projected to be a cornerback at ISU, the same position he excelled at while playing at Lakota East.
He played cornerback and wide receiver for Lakota East and also ran track. VanHooser was a first-team All-Miami Conference defensive back.
According to Cincinnati television station WCPO, Lakota East will wear No. 2 decals on their helmets in honor of VanHooser. He was to wear #26 for the Sycamores.
The tragedy sent shock waves through the ISU athletic community. ISU's women's soccer home opener, scheduled for Sunday afternoon, was postponed due to the crash.
A vigil was organized by student athletes on Sunday evening. It took place outside the Memorial Stadium arch.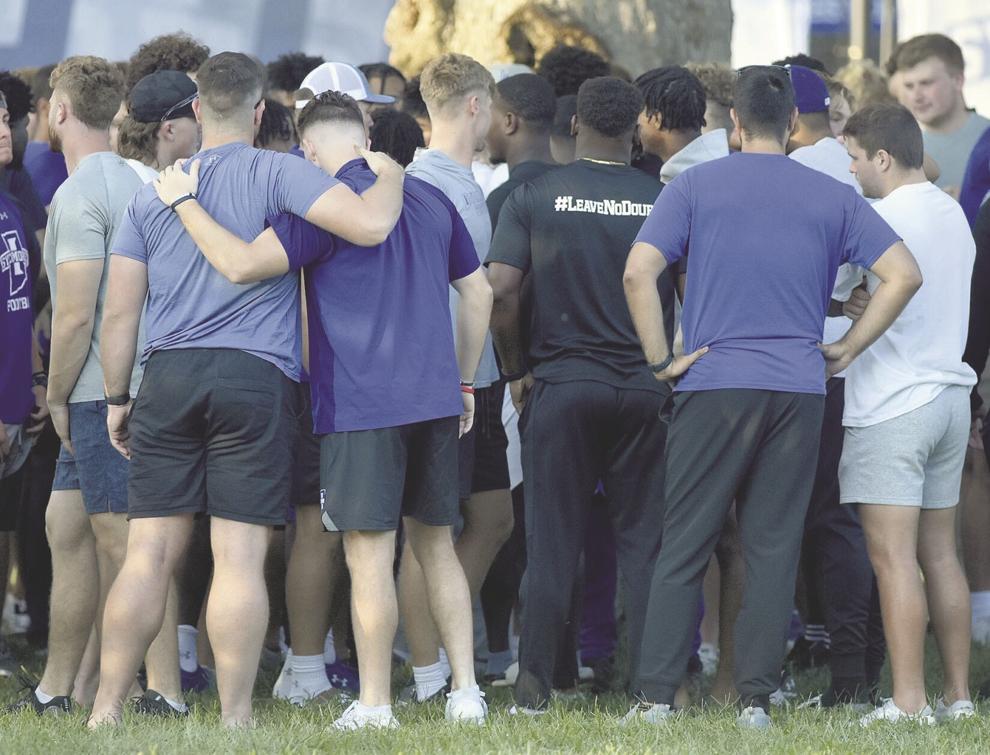 Tribune-Star/Joseph C. Garza Members of the Indiana State football team comfort each other after a vigil at Memorial Stadium Sunday for their football teammates and a student who were involved in a car accident earlier in the day.

JOSEPH C. GARZA

ISU football coach Curt Mallory, ISU athletic director Sherard Clinkscales, ISU senior captain and wide receiver Dante Hendrix and several others, including representatives from the Fellowship of Christian Athletes, spoke at a gathering of ISU athletes who mourned the loss of their colleagues.
Athletes from all ISU sports programs gathered in a semi-circle around the football team to show their support. Several ISU coaches, administrators and supporters were also there.
Later, the vigil entered Memorial Stadium, where athletes gathered in a circle at midfield to pay tribute to the athletes who were killed and injured.
At the request of the ISU, no interviews were conducted.
Tribune-Star/Joseph C. Garza Indiana State football player Dante Hendrix speaks during a vigil Sunday at Memorial Stadium for his teammates and a student who were involved in a car accident earlier in the day .

JOSEPH C. GARZA