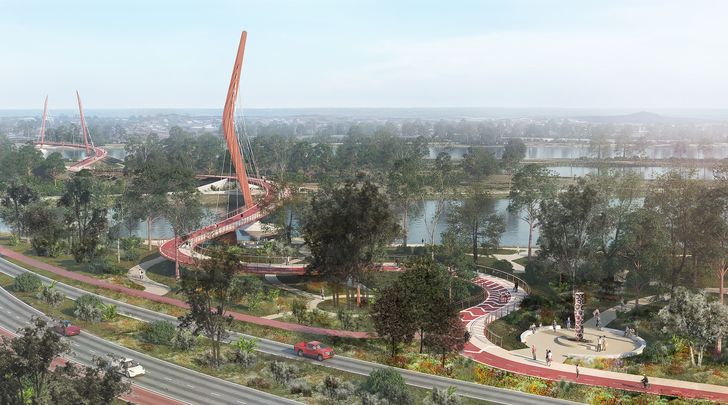 Hassell has been design two pedestrian and cycle bridges in Perth that will be sensitively integrated into the landscape.
The proposed bridges will provide a new gateway to the city, extending across the Derbal Yerrigan (Swan River) from the eastern shore of Point Fraser to the Perth CBD, Heirisson Island and the Victoria coast Park.
The six-metre-wide cable-stayed bridges will provide new and safer access for many commuters, with an estimated 1,400 cyclists and 1,900 pedestrians using the bridges daily. The bridges will also have dedicated rest points, which will allow road users to take a break.
Hassell director Anthony Brookfield said the design aims to make the journey an "immersive and engaging experience", telling the stories that recognize the importance of the Derbal Yerrigan to the Whadjuk Nyoongar community.
View gallery
Image: Hassell
"As the main gateway into and out of the city, this is a great opportunity to transform the journey through Derbal Yerrigan into one of cultural learning where we recognize the history and First Nations people who played a role important as providers and caretakers of Country." said Brookfield. "Creating a revitalized landscape within the context of the new bridges will incorporate these stories."
The design has been developed with key stakeholders, including local governments, traditional owners and specialist groups, taking into account the requirements of road users, local developments on either side of the bridges, future concessions sea ​​height and the needs of the current users of the river.
The causeway bridges are an initiative of Mainroads Western Australia, first announced in 2020 as part of the state's Building for Tomorrow economic recovery program.
The project is funded under the City of Perth Agreement, jointly funded by the Australian and Western Australian Governments ($50 million each) and the City of Perth.
Construction of the bridges will begin later in 2022 with an estimated completion date of 2024.