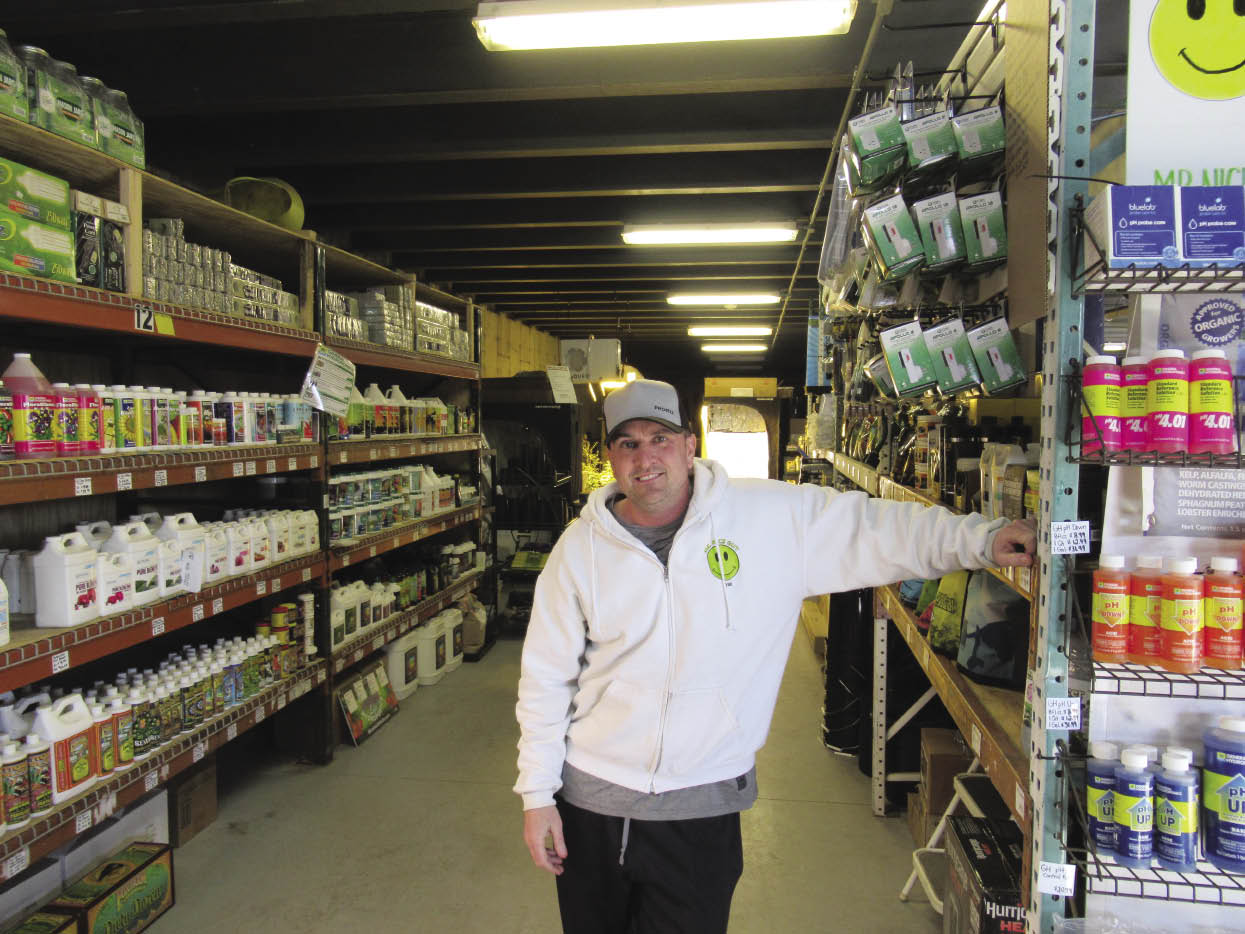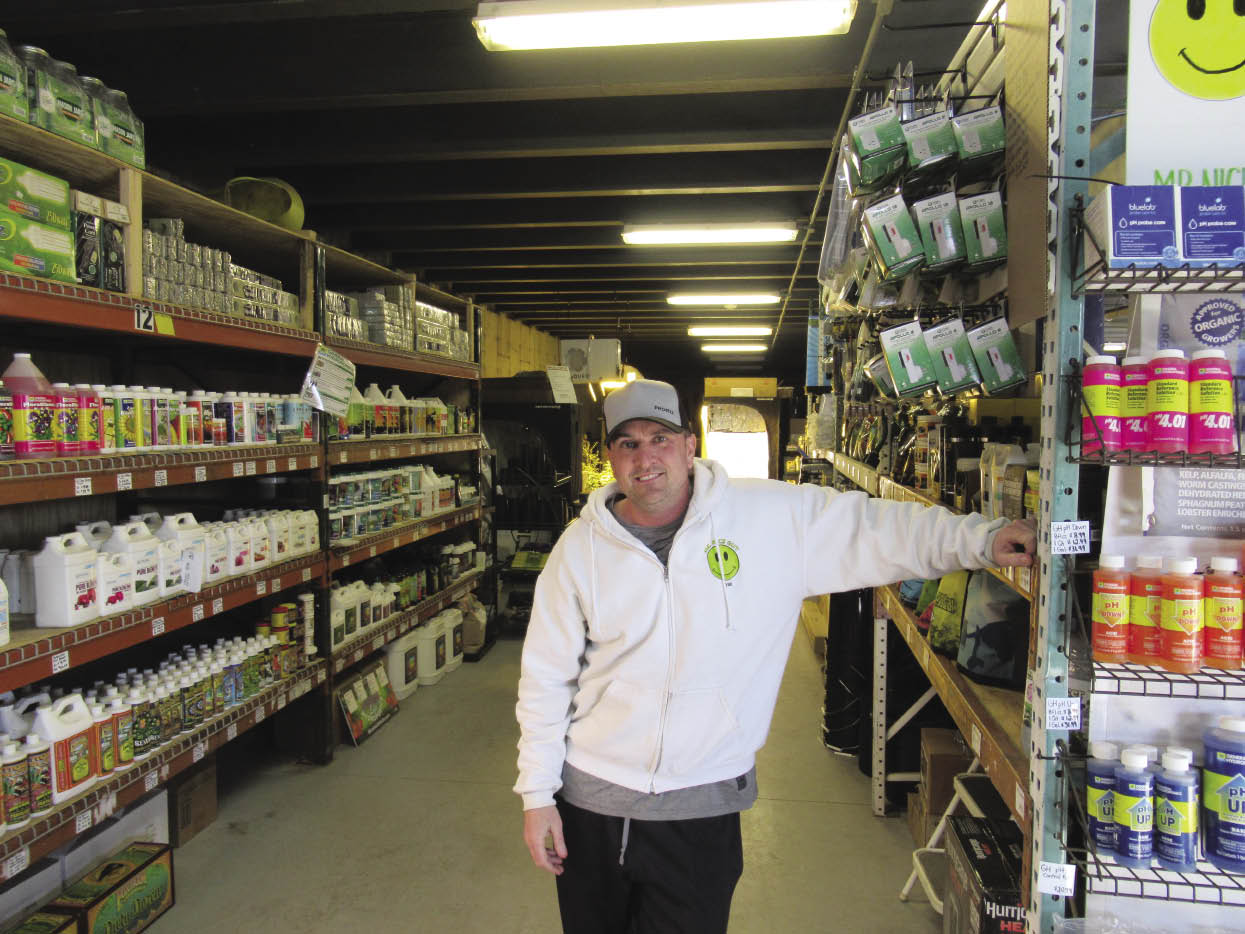 For almost a decade, Ryan Vassar has been involved in Connecticut's cannabis and hemp cultivation industry, running a small business that's taken advantage of the state's growing medical marijuana program.
Now, with more pot cultivators expected to pop up across the state following recreational legalization, Vassar sees significant growth opportunities ahead.
Vassar, 41, owns and operates Mr. Nice Guy, a Wolcott-based cannabis cultivation and organic garden supply store. The company sells everything from soil and composters to grow lights and tents to support the entire grow process from planting to cultivation.
The business has been at its current 2,000-square-foot retail location on Tosun Road since the pandemic began, and Vassar said he's thinking about expanding its footprint to prepare for higher demand from the adult-use market. He's also hiring two workers and considering applying for his own micro-cultivation license.
"When I started this business (in 2012) we had a 200-square-foot retail pad with about 12 bags of dirt and maybe 50 bottles of nutrients – very small," Vassar said in a recent interview. "We slowly built and built, and it was tough at the beginning because there was no cannabis market."
Industry experience
Vassar is a biologist and farmer at heart. He graduated from Eastern Connecticut State University with a bachelor's degree in ecology. He also has a sustainable experimental vineyard and berry farm near his retail store.
While Vassar's business isn't exclusive to serving marijuana growers – he also sells to organic fruit and vegetable farmers – he's got strong connections to the cannabis industry.
He's been a consultant to hemp farmers and spent two years as a grower for Theraplant, which operates one of the state's four medical cannabis grow facilities in Watertown.
"It was time well spent learning the industry and seeing what a massive facility looks like," Vassar said of working at Theraplant.
He brought that experience to Mr. Nice Guy after deciding to start his own business. Before opening he said Connecticut lacked a specialized grow store.
"There was a huge void," Vassar said. "We're moving lockstep with the Connecticut industry and hoping to help push it out as far and as fast as it can."
In addition to his Connecticut base, Vassar said he has customers in New York and Massachusetts. The furthest he's mailed a product was to a lettuce farm in South America, he said.
Vassar declined to share revenue numbers but said Mr. Nice Guy is "rapidly growing."
"Last year was the first year we turned a profit. It has been a long, hard climb building a business with no debt for an industry that didn't even exist in the state [when I started]," Vassar said.
His brick-and-mortar store is the only point of sale right now, but customers can also call-in orders. He buys his inventory from a variety of distributors, some wholesale, and smaller companies like Coast of Maine.
In addition to lighting, soil and equipment, Vassar said his homemade aerated earthworms casting tea – a plant nutrient – is a popular product.
Vassar's competitors are traditional big-box retailers like Home Depot and Lowes, but he said his industry expertise sets his shop apart.
Expanding market
In addition to supplying grow materials, Vassar also wants to serve as a reference and consultant for businesses. He said some growers entering the industry will have a rude awakening when learning about what they need to be successful.
In his experience with customers, Vassar said people need help learning about everything from planting and cultivation to drying and curing. Producing good yields means paying keen attention to every step in the process. Growers must tightly control water quality, temperature, lighting, humidity and carbon dioxide levels to produce a good harvest.
"That's why we've been successful for almost 10 years now because we have that education portion – the products will sell but the better [growers] do, the bigger their harvest, the more they'll come back to Mr. Nice Guy," Vassar said. "We want to help grow the growers."
Vassar's potential customer base will see significant growth in the years ahead from individuals and businesses that will be legally allowed to grow marijuana.
Connecticut residents will be able to grow their own cannabis plants, with some strict guidelines, beginning October 2023. Medical cannabis patients have been allowed to grow since October 2021.
In addition, the state is currently accepting license applications from micro-cultivators and larger-scale growers that want to serve the recreational market. Licenses will be issued to companies looking to open cultivation facilities as small as 2,000 square feet to larger than 15,000 square feet.
Medical cannabis growers like Curaleaf, which operates a 60,000-square-foot cultivation facility in Simsbury, have already announced their own plans to expand production as recreational sales come online.
What's next?
Vassar said supply chain issues have been an issue during the pandemic, forcing distributors to change how they delivered products and leading to some shortages.
"It was a downright scary time for the business," Vassar said. "Luckily we had scaled just enough to acquire the additional product and get it out to our loyal customer base that has stayed with us through our store's growing pains."
Now, Vassar said, inflation is a pressure point, but he's still focused on growing his business, including taking more space within his current location. He's also thinking about pursuing his own micro-cultivator license.
"It's a big hill to climb – a heavy lift," Vassar said of becoming a micro-cultivator.